Japan PM Naoto Kan reshuffles cabinet to tackle economy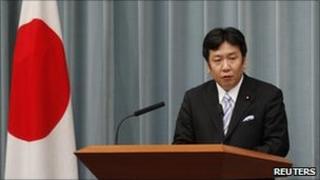 Japanese Prime Minister Naoto Kan has reshuffled his government in a further attempt to tackle his country's economic problems.
Among the main changes, he has brought in Kaoru Yosano - described as a fiscal hawk - as economics minister.
He also appointed a new justice minister, Satsuki Eda, who is a known advocate of the abolition of the death penalty.
Mr Kan has faced plunging ratings ahead of this second cabinet reshuffle.
The BBC's Tokyo correspondent, Roland Buerk, says the reshuffle is intended to avoid deadlock in parliament after the opposition had threatened to block the budget.
The opposition had been angered by the Cabinet Secretary, Yoshito Sengoku, and particularly his handling of a maritime territorial dispute with China.
He has now been replaced, but the foreign, finance and defence ministers all remain in their posts.
"We see a good balance of old and young. This allows each one of us to make the most of ourselves," said new Chief Cabinet Secretary Yukio Edano.
Budget challenge
Our correspondent says the changes also bring to the fore ministers who support reform to tackle Japan's massive public debt and the trade liberalisation sought by business leaders.
The appointment of a veteran fiscal hawk, Kaoru Yosano, as economic and fiscal policy minister is being taken as a signal that Mr Kan is serious about reining in the costs of Japan's rapidly ageing society.
"Japan's fiscal policy will hit a dead end if it is left as it is," Mr Yosano told reporters.
"I share the prime minister's thinking on the need to reform the public finances and social security."
Prime Minister Kan took office in June 2010, and has said he wants to rein in spending and curb Japan's massive public debt.
However, he faces a struggle in parliament because he does not have a majority in the upper house.
The newly-appointed justice minister is a law expert educated at Japan's top University of Tokyo and at Oxford in Britain.
His office has said Satsuki Eda is "personally against" the death penalty and would "ponder carefully" how to act.
Japan remains one of the last industrialised countries to use the death penalty; a previous Justice Minister, Keiko Chiba, also opposed its use and opened public debate on the subject.