Robert Gates warns of North Korean threat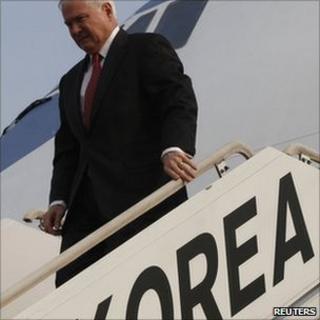 North Korea poses an increasingly potent threat to the region and the world, the US Defence Secretary Robert Gates has said.
Speaking in Japan, he said while Pyongyang's conventional capability was degraded it was in other respects "more lethal and destabilising".
He also said there were signs of a "disconnect" between the civilian and military leaderships in China.
But he insisted the Chinese President Hu Jintao was firmly in charge.
Mr Hu is to visit Washington next week.
Mr Gates has now arrived in South Korea.
"The character and priorities of the North Korean regime sadly have not changed," Mr Gates told an audience of students at Keio University in Tokyo.
"North Korea's ability to launch another conventional ground invasion is much degraded from even a decade ago, but in other respects it has grown more lethal and more destabilising."
The country's missile technology and nuclear programmes "threaten not just the peninsula, but the Pacific Rim and international stability," Mr Gates said.
'Unaware'
As for China, he quashed suggestions that China's growth as a military power made it an "inevitable strategic adversary" of the US.
He said the only area of dispute between them was the issue of "freedom of navigation".
While he was in Beijing, seeking to repair military ties frozen by China over US arms sales to Taiwan, the Chinese military published photos of a test flight by its J-20 stealth jet.
Mr Gates said of China's civilian leaders that there were "pretty clear indications they were unaware of the flight test".
"This is an area where over the last several years we have seen some signs of, I guess I would call it a disconnect between the military and the civilian leadership."
He added that China's government leaders had also appeared to be unaware of what he called aggressive actions taken by Chinese naval vessels against a US Navy surveillance ship in 2009, and of an anti-satellite test in recent years.
However, he said, he had no doubt that President Hu was "in command and in charge".
He also reiterated his belief in the vital importance of large numbers of US troops remaining in Japan.
Japanese public opinion and some government leaders have become more critical of the noise, crowding and occasional misbehaviour of the 49,000 US troops based in and around Okinawa.
"We do understand that it is politically a complex matter in Japan," he said during a news conference with Japan's Defence Minister Toshimi Kitazawa.
"While issues associated with Okinawa and Futenma have tended to dominate the headlines this past year, the U.S.-Japan defence alliance is broader, deeper and indeed richer than any single issue," he said.
"North Korea's military provocations could be even more outrageous" without that military presence, he argued, and China "might behave more assertively towards its neighbours", he said.
"It is precisely because we have questions about China's military - just as they might have similar questions about the United States - that I believe a healthy dialogue is needed," he said.
Mr Gates's trip has focused on repairing military ties with China and easing tensions between the Koreas.