China plant closure leaves city residents freezing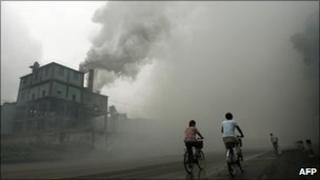 Almost 20,000 people have been left facing sub-zero temperatures with no heating in the central province of Henan, China's state-run media say.
Xinhua news agency said heating was suspended in Linzhou city last week.
It said that the move was to save energy - something which has been denied by the local authorities.
The loss of heating appears to be an extreme example of local officials taking drastic measures in order to meet energy-saving targets.
State-run media say a power plant was shut down in the city of Linzhou, leaving thousands shivering in freezing temperatures.
Over 3,000 homes are reported to be affected, as well as schools, hospitals and government buildings.
The interruption to the service came as temperatures in Linzhou fell to minus 10 Celsius.
But the city's vice-mayor denied the closure of the power plant was connected to energy savings.
He said the reason that many of parts of Linzhou were without heating was because a replacement facility had to yet to be finished.