Flood recovery in Australia, Sri Lanka, the Philippines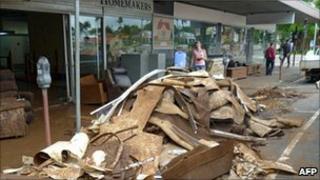 In Australia, the clean-up after the worst floods in decades has begun. In Sri Lanka and the Philippines, flooding has displaced hundreds. And in Brazil, mudslides and flooding have again washed through the hills above Rio de Janeiro. So where does the clean-up start? And what factors set a flood zone on the road to recovery?
On Monday, an "instant inland tsunami" ripped through the city of Toowoomba, in south-east Queensland. But while cities like Brisbane and Ipswich were on flood alert, Toowoomba had received no warning that the waters were on their way.
The sun has been shining again, some businesses have re-opened, and the clean-up is under way. But the president of the Toowoomba Chamber of Commerce, Geoff MacDonald, admits there are "challenges" ahead.
When business owners returned to Toowoomba, they felt shock and disbelief, he says. "Everything you've worked for has disintegrated: it's frightening."
Community support
Premises were filled not only with silt, but debris - some of it dangerous. Sofas, sections of cars and shards of glass had all been swept into premises by the floods.
Services like electricity, water and sewerage first had to be turned off while properties were made safe, then reconnected to allow cleaning to begin.
And there was no easy way to get rid of the rubbish.
Regular refuse collections were suspended - in some places, it was physically impossible for bin lorries to get through the streets still choked with detritus.
"So many areas need this service that they [the local authorities] are struggling to provide it at the rate required," says Mr MacDonald.
Despite the shock, Toowoomba has rallied round.
"The community has been tremendous," says Mr MacDonald. "We're so very heartened that so many have offered food, beverages, products, equipment or personnel."
An appeal fund is being launched; the money raised will be used to cover funeral expenses for those killed in the floods and to help their families.
"The stronger the society, the quicker it bounces back," says Graham McKay, deputy humanitarian director for the aid agency Oxfam.
The Queensland floods have been devastating, but Australia is prosperous and well placed to recover.
Other countries will have a more difficult time. Parts of Sri Lanka, Brazil and the Philippines are currently under water.
And nearly six months on from the floods which laid waste large parts of the country, Pakistan is still struggling.
The two most important variables are the background of poverty and the stability of the state, says Mr McKay.
Early warning
In the past few years, countries like Sri Lanka and the Philippines have become much better at preparing for disasters. Warning systems have been put in place. In parts of the Philippines that are frequently flooded, houses are often built on stilts.
It costs more initially, Mr McKay points out, but less than the cost of rebuilding from the ground up after a cyclone or a flood.
"It's about reducing risk, allowing life to continue as normal," he says.
He cites the example of Bangladesh, where thousands were killed in a cyclone in the early 1970s. Lessons were learnt: an early warning system was set up, and concrete shelters built.
When Cyclone Aila struck in May 2009, nearly 300 people died, but the toll would have been far higher if Bangladesh had not invested in its infrastructure, Mr McKay believes.
But in countries already under pressure, floods can act as a multiplier, exacerbating the effects of poverty or political turmoil.
In eastern Sri Lanka, those displaced by the 25-year-long civil war and living in camps have now been made homeless for a second time. And in Pakistan, the recovery has barely begun.
Salvaging belongings
An estimated 20 million people were affected by last summer's monsoon floods; millions are still displaced.
Those who have been able to return have found their houses in ruins and their crops destroyed.
In the north of the country, the floods washed through relatively quickly and the water flowed south. People were digging through a metre (3ft) of mud to salvage some of their belongings and bricks for rebuilding.
As in Queensland, there was a strong community spirit, but there were no collection services to take away the silt - only wheelbarrows.
In the southern province of Sindh, the water did not flow off the land; instead, it stayed and stagnated. Malaria rates increased among those who returned, says Ariane Rumery, spokesperson for the UN refugee agency, UNHCR.
In Australia, many business owners are worried because their insurance will not cover the cost of repairs. But in Pakistan, Ms Rumery says there is "no question" of insurance.
Many rural Pakistanis have lost their livelihoods. Tenant farmers whose crops were destroyed fear they will still have to pay their landlords, while day labourers have lost the work they used to pick up.
The government in Pakistan is under pressure from an insurgency, rising food prices and popular protests over issues such as the prospect of relaxing the strict blasphemy laws.
With so much political uncertainty, the aftermath of the floods has become one crisis among many.
"Pakistan is not out of the emergency phase," says Ms Rumery.