Brisbane under water: Your stories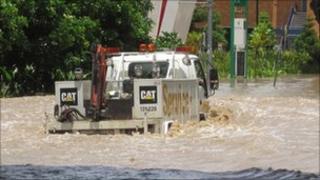 Large parts of the Australian city of Brisbane are now deserted with thousands of people fleeing the worst floods there in decades.
In some suburbs only rooftops and the crowns of trees remain visible.
BBC website readers in the area on Wednesday have been getting in touch with their stories.
Sam Freeman, Ipswich, Brisbane
"I am one of many who have had to evacuate my house. There were about 83 of us living in this creek in Churchill in Ipswich. Since then the little creek which is only two metres wide normally, has risen and closed a road. I fear the bottom level of my house is already flooded.
I was initially evacuated to the centre at the Ipswich Showgrounds which was already seeing at least 1,000 residents and has bedding shortages.
We left the Ipswich Showgrounds last night due to the shortage of bedding. The centre is now full and we are staying with a friend who thankfully lives on top of a hill.
The local supermarkets are closed and food shortages are feared, service stations are being inundated by motorists getting petrol, and the relief centres are asking for more food as they are running low.
When waking up this morning there were heaps of choppers around. Roads are unrecognisable, and as a young 19-year-old I can't believe my eyes - it looks like a war zone. To see the areas we know and love is just gut-wrenching."
Sian Yates, Norman Park, Brisbane
"Most people from this suburb whose houses are flooded have left. Fortunately for me, although I am in one of the suburbs listed on the flood list for tomorrow, I am on a hill and in a second-floor apartment so I am planning on staying here.
I'm also hoping to help with sandbagging where required tomorrow - one positive is that people are rallying to help friends, neighbours and complete strangers, showing a great Queensland spirit.
The queues for sandbags were over a mile long this afternoon, queues in supermarkets and at petrol stations not much shorter.
The supermarket near me was out of bread and water before 1400 today. Residents west of Brisbane are being advised to boil water before drinking so I have filled several litre bottles with fresh water just in case.
I have also heard there will be a severe shortage of meat as they won't be able to get the cattle to the abattoirs.
Brisbane's electricity is going to be cut in several areas tomorrow as a precaution. It's surreal - this is the kind of thing you see on the news but don't expect to be happening in your home town.
A lot of people are very nervous and have set their alarms for 0200 so they can see where the water has come up to."
Rose Jones, Fairfield
"My partner and I are British and moved here from Edinburgh six months ago. 
We live in Fairfield which is a low-lying suburb close to the Brisbane River. When I got home yesterday two streets outside our house were flooded but thankfully some distance from our front door.
We emptied our entire apartment into our neighbour's house upstairs in anticipation of the flooding.
When we woke up this morning Fairfield Park outside the back of our house had turned into a lake.
By this point all four streets outside our flat were flooded and we were on a small island.
Thankfully the Special Emergency Service was evacuating people to safety. We were some of the last to leave.
Sadly, I think our home is underwater now but fortunately we were able to save our belongings. We're definitely much better off than many people and our thoughts go out to them.