Australia flooding: Brisbane resident's experience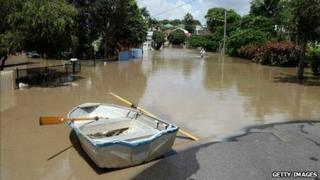 Brisbane resident Rob Minshull tells the BBC's World Today programme what life is like camped out on the roof of his home, waiting for the murky floodwaters to subside.
"My house is at least 15m (50ft) high so I've got the top deck of my home still free from the water but the rest of my house has gone under. I live opposite a park which is 5m under water - all I can see are the roofs of houses and the tops of trees.
There is one person left in the street along with me. I can see him on his roof; he's about four houses down and we both have our mattresses on the roof.
We decided to stay, we told the emergency services we were staying, but everybody else has evacuated either by dinghy or several people climbed over the top of my roof. I've got the highest house in the street, and people were using my roof to get to houses on higher ground at the back.
That was several hours ago. Since then there have been lots of helicopters flying overhead. I've lost power and we've got no running water.
'Ghost town'
The flooding has reached the bottom tier of my house, it's about chest height. I've got brown waves going through the house - I've got snakes in the house. My cars are locked in the garage, I can't get them out - they're floating around, and banging in the garage.
We're still expecting the waters to rise. Personally I'm fine; I've got a supply of fresh water, I've got my camping equipment and my camping stove. I want to stay to see what damage has been done to my own home. I've got my own dinghy so I'm quite safe.
I live about 200m from the river, so I do live in a flood-prone area. This is a big city, Brisbane - Australia's third largest, and the city centre from what I last saw on TV looked like a ghost town. There were no buses, no ferries and they were talking about smashing up the river walkways.
Right now I'm looking at a car floating past my house; I can see fridges, furniture, sofas - there's even been a report of a shark sighted.
It was a bull shark and it was spotted in a local suburban street. We do have sharks in the Brisbane River; they have obviously come over the flood barriers and come looking for food."