Vietnam vows change to build modern economy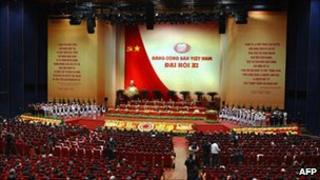 Vietnam's governing Communist Party has begun its five-yearly congress by admitting its programme of economic growth has strayed off course.
Outgoing party leader Nong Duc Manh said the economy must be restructured to speed up modernisation.
Vietnam is aiming in the next 10 years to become an industrialised country.
However, it has recently been beset by inflation, a trade deficit and the near-bankruptcy of the state-owned shipbuilding conglomerate, Vinashin.
Some 1,400 delegates opened the meeting in Hanoi with the singing of the Communist anthem, the Internationale.
The main task of the congress is to choose new leaders for the party - a new central committee with 200 members will be selected at the end of the nine day gathering.
The delegates' selection will also give some indication of the party's future direction.
The nation must "renew the growth model and restructure the economy to speed up industrialisation and modernisation with fast and sustainable development," Nong Duc Manh told the congress.
"The strategy is to strive towards 2020 so that our country will basically become an industrialised nation."
The Politburo's second-highest ranking member, Truong Tan Sang, who is expected to become the new president, told delegates corruption and mismanagement must be stamped out.
He said some senior party members "lack example in morality and lifestyle, having allowed their wives, children or their staff to abuse power for personal profits."
The BBC's Nga Pham, who is at the congress, says the Communist Party is determined to retain its monopoly on power, but in order to do so, it will need strong, energetic and reform-minded people at the helm.
She says little change in policy is expected at the meeting, but the new leadership will have to find ways to renew old socialist ideas seen by many as impeding economic development.
A socio-economic strategy for the next decade pledges to carry out reforms long sought by foreign investors.
These include the need for a more skilled workforce, better infrastructure, and more efficient state enterprises.