Surge of claims follows Australia's Queensland floods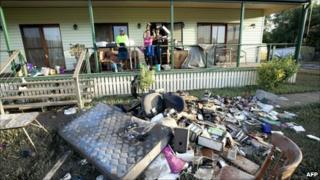 Australia's insurance industry is gearing up for one of the largest series of claims in its history after devastating floods swept through the state of Queensland.
As thousands return to their damaged homes and businesses to survey the havoc caused by mud and flood waters, insurance assessors are being mobilised from across the country.
"We're thinking it's going to be up there with one of the biggest events we've had," said Paul Giles, of the Insurance Council of Australia.
Already the council, which represents many of the country's principle insurers, estimates there have been some 8,000 claims, worth a total of Aus $290m (£183m; $289m).
'Caught by surprise'
But Mr Giles says the numbers will inevitably rise.
"It's a bit of a wait-and-see game at the moment," he said. "Once people start going back to their homes and the claims start to come in, we'll have a better idea."
One of the largest insurers in Queensland is Suncorp, which took a total of Aus $1.9bn in premiums in the 12 months to the end of June 2010, according to the Associated Australian Press.
From its claim centre in Brisbane, where 30 suburbs are under water, spokesperson Mike Sopinski said the company had so far received 5,000 claims across the state, and was expecting a surge over the coming days.
"We are seeing claims from an enormous land area across Queensland. In Brisbane, the river rose that quickly it did catch many people by surprise," he said.
"One family I've just dealt with - from Chelmer, along the Brisbane river - told me the flood hit that quickly they had to jump over the fence. They've lost everything. They came in with only the clothes they've got on their back, in T-shirts."
Take photographs
He gave them the same advice as he has been giving others - make a claim as soon as you can, keep small samples of damaged contents like carpets, take photographs and keep an inventory - with serials numbers, makes and models - of things that have to be thrown away.
In Queensland, a state that is no stranger to extreme weather events, he said Suncorp's research showed that about 12% of people were underinsured - lacking the specific flooding cover, which would allow them to recoup their losses.
The city's mayor Campbell Newman said 11,900 homes and 2,500 businesses had been completely flooded, with 14,700 houses and 2,500 businesses partially submerged.
But according to the Insurance Council of Australia, and despite Brisbane's dramatic 1974 floods, much of the state has not been mapped for flood risk.
"Queensland is quite unique - only 8% of the state is mapped for flood modelling," said Mr Giles. "It's not great but that 8% covers the areas that floods the most and individual insurers do their own mapping."
Many people whose homes and businesses were situated on low-lying areas and in flood plains have said they could not get insurance cover.
"They just won't insure us," Lyn Pearce, of the Queensland town of Rockhampton told the Sydney Morning Herald. "We've got nothing. Flash flooding [insurance] yes. But floods, no. It will be a disaster for us."
An internet video posted by the Brisbane Times shows a manager of a floating restaurant, the Drift Cafe, watching helplessly as the flood waters tug at the platform. Asked whether it is covered by insurance, he replies: "It's on the river. They don't cover floods".
'Act of God'
But Mr Giles said that half of all Queensland insurers offered flood cover and dismissed suggestions that any would try to wriggle out of paying claims by classifying the floods as an "act of God".
"The act of God [idea] is an absolute fallacy. It des not exist in Australian insurance policy. It's a thing of the past," he said.
Australian insurers, however, do not have a single, common definition for flooding - dividing it into:
Riverine, or inland, flooding - where the water originates in rivers, creeks and dams
Flash, or storm, flooding - where the water comes from storms or rainwater
Actions of the sea, where there is very little insurance cover available
"This is classic riverine flooding, and whether or not people are covered will come down to the conditions of the policy that they have purchased," said Mr Giles.
Businesses, too, will only be able to claim for loss of revenue if they have taken out specific business interruption insurance.
But even for those who have the right kind of cover, the process of properly beginning to clean up and rebuild their lives and livelihoods will have to wait until the insurance assessor arrives.