Robert Gates in China: 'Consensus' despite Taiwan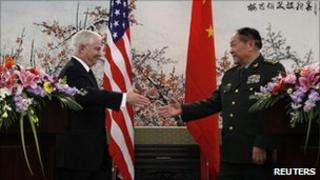 China's state media has said that the visit by the US Defence Secretary Robert Gates to Beijing was a positive step in restoring military ties.
China says a consensus was reached on the need to avoid misunderstandings.
However, one editorial stressed, the US must eschew arms sales to Taiwan and marine patrols in Chinese waters.
The United States has said it wants restored military ties to be worthy of celebration when the Chinese President Hu Jintao visits Washington next week.
"Even though the US defence chief's presence in Beijing marks a positive development in normalising bilateral military ties, it would be too optimistic to conclude that military exchanges ... will be plain sailing after a single visit," the official China Daily said in an editorial.
It listed the persistent sources of tension as US naval surveillance along China's coasts, US arms sales to Taiwan and what it called America's "growing penchant for projecting its military power in the Asia Pacific".
"If the Pentagon really cares about building stronger ties between the two militaries, it should show sincerity in removing these obstacles," the English-language newspaper said.
Misunderstandings
"Regrettably, the US finds fault in China's so-called military build-up from time to time, turning a deaf ear to China's repeated explanation that its military modernisation is purely defensive."
Last year, tensions increased significantly over a series of maritime disputes, with the US supporting South East Asian concerns at China's re-stated claim to the South China Sea.
China has been vociferous in its complaints about joint military exercises hosted by South Korea, Japan and the US.
The US also began building a military relationship with its former foe, Vietnam, with an offshore naval visit.
Analysts have warned that conflicts over disputed rights to the seas in the region carry a real threat of danger for the near future.
Other state outlets, including the military's Liberation Army Daily, offered justifications for China's military buildup - something the US has said it would like to know more about.
"China should not be unjustly excoriated for developing a few modern weapons," it wrote.
Consensus
The state news agency Xinhua chose to put more emphasis on the positive aspects of the first such military talks since 2000.
"There are many areas where we have mutual interests and can work together, those disagreements are best dealt with through dialogue and discussions with one another," it quoted Mr Gates as saying.
Mr Liang, however, stressed the danger posed by US arms sales to Taiwan.
"We do not want to see such things happen again. We do not want US weapon sales to Taiwan to further damage the relationship between China and the United States and the two nations' armed forces," he told a media briefing.
Chinese Vice President Xi Jinping, who is also vice chairman of China's Central Military Commission, said mutual respect for sovereignty, security and development interests was key.
"(The) China-US military relationship, as an important part of bilateral ties, is a sensitive field with more complicated factors," he said.
Mr Gates invited the chief of the People's Liberation Army's (PLA) general staff, Chen Bingde, to visit Washington in the first half of this year.