Saudi woman jailed for abusing Indonesian maid Sumiati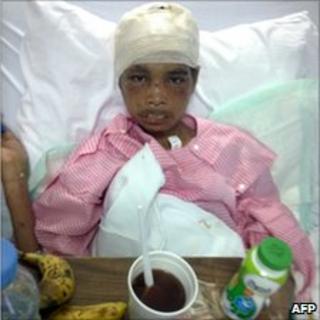 A court in the Saudi city of Medina has sentenced a woman to three years in jail for the severe physical abuse of her Indonesian maid.
Sumiati Binti Salan Mustapa, 23, was admitted to hospital in November with broken bones and burns to her face and body.
The case received worldwide attention, and prompted the Indonesian president to demand justice for her "torture".
But local media say the alleged abuser maintains she is innocent.
Scissors
The employer - who has not been named in media reports - was convicted under a new royal decree against human trafficking, al-Watan newspaper reported.
But Didi Wahyudi, from the Indonesian consulate in Saudi Arabia, told the BBC his country would press for a harsher sentence.
"We are going to file an objection to the judge's verdict because the sentence is too light compared to the maximum jail sentence of 15 years according to Saudi law, whereas Sumiati has suffered extraordinary consequences."
The defendant's lawyer also said she would appeal against the sentence, reported Saudi Gazette.
Ms Sumiati is thought to have arrived in Saudi Arabia last July seeking work.
The woman for whom she found work as a maid was arrested after allegedly beating Ms Sumiati so severely she had broken bones and internal bleeding. She was accused of putting a hot iron to Ms Sumiati's head and stabbing and mutilating her with scissors.
Ms Sumiati appeared in court last week to show the judge her scars.
Outrage
She has already undergone surgery but, according to the Indonesian consulate, will require another operation.
The case outraged rights groups, who said it demonstrated the lack of protection for millions of domestic workers - many of whom are south-east Asian migrants - in Saudi and other Gulf states.
A number of cases of abuse of migrant domestic workers have come to light in Saudi Arabia over recent years.
However, perpetrators have rarely faced punishment greater than a fine.
Christoph Wilcke, a senior Middle East researcher with Human Rights Watch, told the BBC this was the first jail sentence he had heard of in cases of abuse of migrant domestic workers, though there had been instances of pre-trial detention.
"My cautious assessment would be that there's a greater awareness in cases with lots of media attention such as Sumiati's that they [Saudi authorities] need to do something. A very, very small but encouraging sign."
But Mr Wilcke said he was reserving judgement on the fairness of the trial, as it had been concluded so quickly.
The group's Indonesia researcher, Nisha Varia, added that some key reforms were needed to protect migrant domestic workers from abuse.
"This includes providing them comprehensive protections under the labour law and changing the sponsorship system so that they do not need their employer's permission to change jobs or get an 'exit visa' to leave the country."
She added that greater oversight of recruitment agencies was also needed.