Missing China activist Gao Zhisheng 'tortured'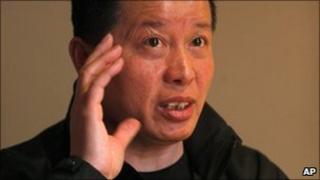 One of China's most prominent human rights activists, Gao Zhisheng, has told of his torture by police during more than a year in secret detention.
The lawyer told the Associated Press he was stripped naked, beaten and pistol-whipped until he feared for his life.
Mr Gao gave the interview last April - just two weeks before he went missing.
He asked that his account only be published if he disappeared or arrived "someplace safe" like the US. Mr Gao has not been seen for several months.
The AP said it decided to publish his account given the length of his current disappearance.
Mr Gao is one of China's leading human rights defenders. In 2006, he was sentenced to three years in prison for "inciting subversion" but the jail term was suspended for five years.
Death threats
Mr Gao said that during his 14-month ordeal he had been moved between Beijing, his native province of Shaanxi and the far western region of Xinjiang.
He said weeks of inactivity were punctuated by outbursts of brutality.
He described being bound with belts and hooded, while his jailers threatened to kill him.
"You must forget you're human. You're a beast," Mr Gao said his tormentors told him in September 2009.
He said he was told by Beijing police that he was "not good enough" for prison. "Whenever we want you to disappear, you will disappear," he quoted police as saying.
In October, Mr Gao's daughter, Grace Geng, appealed to US President Barack Obama for help in an open letter.
She said her father had been abducted and tortured "for exercising his right to freedom of speech".
She said she too, aged 12, was beaten by police and barred from going to school; she finally fled China with her mother and brother in 2009.
Human rights advocates often cite Mr Gao's case along with that of Liu Xiaobo, the jailed academic awarded the 2010 Nobel Peace Prize, as examples of what they say is the Chinese Communist Party's increasing persecution of human rights defenders in China.