Thai government welcomes 'peaceful' red-shirt rally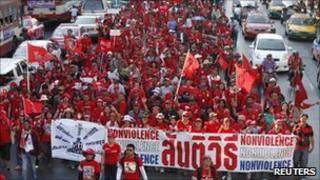 The Thai government has thanked anti-government demonstrators for acting peacefully in their largest rally since the violent end to last May's protests.
Two months of protests then left more than 90 people dead.
On Sunday, at least 30,000 protesters, known as red-shirts, gathered to remember those killed.
They also wanted to show they have the discipline to demonstrate without violence, posing a new challenge to the government in an election year.
Tens of thousands of red-shirt protesters gathered at Bangkok's Democracy Monument.
Then they marched, rode motorbikes and drove pick-up trucks across town to the Ratchaprasong junction - scene of last year's protest camp.
The Thai government is putting a brave face on the latest demonstration of the protest movement's staying power.
Acting spokesman Panitan Wattanayagorn said the government had expected bigger numbers since emergency rule was lifted in December.
The government was pleased to see the protests were peaceful, and acknowledged that the red-shirts' actions were now within the rule of law.
He said he believed the government's various reform measures would stem the size of future protests.
Some of those measures were announced on the same day as the red-shirt rally, including the extension of social security, the promise of cheap loans and more medical cover.
With an election due to be called sometime this year, critics have described the measures as an attempt to win more votes for the government.
The spokesman told the BBC he accepted that the protest movement had probably moved beyond its patron, former prime minister Thaksin Shinawatra, into something more broad-based.
That suits the government, he said, as the focus ahead of elections should be on national reform.