North Korea renews South overture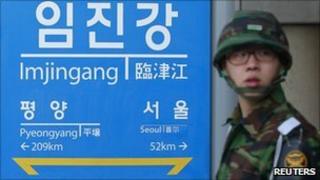 North Korea says it wants to reopen talks with the South - the latest in a series of conciliatory gestures.
The North's reunification committee issued a statement calling for "unconditional and early" talks.
Seoul officials said they would review the latest proposals from Pyongyang. The South dismissed a similar offer earlier this week as "propaganda".
The sinking of a Southern warship last March sparked a dramatic rise in tension on the peninsula.
The Cheonan was apparently sunk by a Northern torpedo, with the loss of 46 lives. The North denies the attack.
Since then, the South has irked the North by holding large-scale military exercises close to the maritime border.
On 23 November, the North infuriated the South by shelling one of its islands and killing four people.
But in the past week, the North has shifted away from statements threatening war and retaliation, to issuing offers of talks and peace overtures.
"The South Korean authorities should discard any unnecessary misgiving, open their hearts and positively respond to the North's proposal and measure," the North's Committee for the Peaceful Reunification of Korea said on Saturday.
The committee suggested that the talks should take place later in January or early February.
The committee also said the North would reopen a liaison office with the South at a joint factory-complex just north of the demilitarised zone that divides the peninsula.
In response, Unification Ministry spokesman Chun Hae-sung told the Associated Press news agency that the statement would be considered, but noted that no formal request had been received.