Kazakhstan: Nazarbayev rejects plan to scrap elections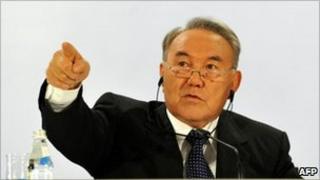 Kazakh President Nursultan Nazarbayev has rejected the idea of scrapping the next two elections and extending his term until 2020.
Parliament had proposed a referendum on the plan, saying Mr Nazarbayev should stay in power to ensure the country's "stable development" and prosperity.
Earlier this week, the US called the idea a "setback for democracy".
President Nazarbayev has led Kazakhstan since its independence from the Soviet Union in 1991.
He has already indicated he is confident of winning the next election, due in 2012.
Kazakhstan has never held an election deemed free and fair by international observers.
Parliament, made up entirely of members of the president's party, has already changed the constitution to allow Mr Nazarbayev to run for re-election as many times as he wants.
Democratic credentials
The idea of a referendum surfaced in December - apparently the suggestion of a university rector - and was quickly backed by parliament.
In a presidential decree on Friday, the man known as the "leader of the nation" gave no explanation for overruling the proposal.
Some analysts have suggested that the idea was made only so that President Nazarbayev could reject it, in order to improve his democratic credentials in the West.
On Tuesday the US Embassy to Kazakhstan made Washington's position clear.
"We think that it is important that Kazakhstan's government and citizens honour their international commitments and continue to strive for free and fair elections," the Embassy said in a statement.
The US has fostered close ties with the mineral-rich country, despite the government's record on human rights, the stifling of opposition and the concentration of power in the hands of the president and his family.
The referendum may still go ahead despite the presidential decree - if four fifths of parliamentary members vote for it or if a public petition gets enough signatures.
By law, at least 200,000 signatures are needed. Local media reported on Wednesday that the petition for a referendum had been signed by 2.6m people.