Obituary: Vang Pao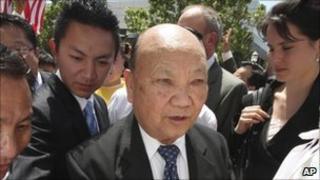 General Vang Pao, who has died in California at the age of 81, was once described as "the biggest hero of the Vietnam War" by former CIA chief William Colby.
Much of his life was spent fighting - in the French army, the Laos royal army, and the CIA's secret army.
He was even briefly arrested in 2007 on charges of conspiring to overthrow the Laos government - despite having lived in the US for decades.
The charges, which were eventually dropped, did little to tarnish his reputation among his Hmong compatriots in the US.
Many regard him as a leader-in-exile, and his death will be widely mourned.
General Vang was one of many Hmong recruited by the CIA as they desperately tried to prevent a communist takeover of what was then known as French Indochina during the 1960s and 1970s.
He spent 15 years leading the CIA-funded guerrilla forces in Laos.
But like the US Army in neighbouring Vietnam, his fighters were eventually overcome in 1975 and forced to flee.
Many Hmong settled in Thailand; others, like Vang Pao, arrived in the US.
He was credited with brokering the resettlement of tens of thousands of Hmong after their unsuccessful war.
Coercion claims
But even after moving to the US, the general was occasionally mired in controversy.
In 2007, the US authorities arrested him on suspicion of planning a coup against the Laos government.
A shadowy group known as Neo Hom, which Vang Pao has been linked to, was accused of raising millions of dollars to recruit a mercenary force to kill communist officials in Laos.
The general denied the charges, and prosecutors dismissed the allegations once they had managed to translate thousands of documents relating to the case.
And while Vang Pao is credited with doing much to help the Hmong refugees and keep the plight of those back home in the public eye, he was not popular in all quarters.
In an earlier investigation into Neo Hom, some refugees alleged they were being strong-armed into handing over donations with the promise of receiving social-service benefits, or key jobs in a free Laos.
Vang Pao's son-in-law Kao Thao later pleaded guilty to embezzlement, but no charges were brought against the general, who denied involvement.
Speaking on Vang Pao's behalf in 2005, his son Cha Vang told a Minnesota newspaper that nobody gives money "unless they have some personal interest".
"Nobody is coerced. My father's not going around demanding money," he said.
'Era of peace'
Many in the Hmong community also leapt to Vang Pao's defence when, in 2002, old allegations that he trafficked drugs during the war resurfaced.
US historian Alfred McCoy alleged that he had traded in opium to help fund his army in the 1960s - claims which Vang Pao rebuffed as "completely untrue".
In recent years, there were also reports of in-fighting as other community leaders sought to move on from the old talk of toppling the Laos government.
Vang Pao surprised many when he released a "peace doctrine" in 2003 in which he proposed seeking peace and normalising trade with the Laos government.
He called for the past to "stay in the history books... to let a new era of peace, prosperity and reconciliation return" to Laos.
Many of the 250,000 Hmong living in the US will mourn Vang Pao as they would a leader.
"He's always been kind of the glue that held everyone together," said Lar Yang, a Hmong publisher.
"He's the one that always resolved everything... There will be a lot of chaos for a little while, until things get settled."