Indonesian police jailed for 10 years in terror trial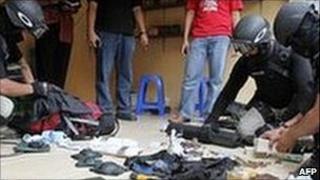 Two Indonesian police officers have been jailed for selling firearms to alleged Islamist extremists.
The militants had been plotting a series of attacks on government leaders and Westerners in the capital Jakarta.
The convicted men were among more than 100 suspects detained after the discovery of a militant training camp in Aceh last February.
More than 65 are in custody awaiting trial, while others have already been convicted.
The two police officers were convicted of selling assault rifles and thousands of rounds of ammunition to a group known as "al-Qaeda in Aceh".
A district court was told the men, Tatang Mulyadi and Abdi Tunggal, were guards at the national police warehouse in Jakarta, where the stolen weapons were kept.
Prosecutors said the pair had sold firearms to alleged militants through an intermediary on 26 separate occasions.
For their crimes, they were jailed for 10 years, along with a third defendant.
In their defence, Tatang and Abdi claimed to be unaware that the small arsenal they had seized would end up in the hands of extremists.
The trial judge, however, said that some of the guns had been used to kill fellow police officers during a raid on a terrorist training camp in Aceh last year.
Dozens of suspects were rounded up.
Some have already been jailed for their part in a plot to target Westerners in Jakarta and to assassinate Indonesian President Susilo Bambang Yudhoyono.