South Korea dismisses North Korea talks offer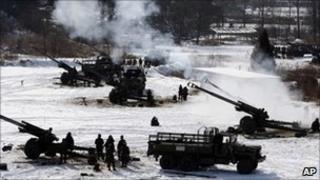 South Korea has dismissed an apparent offer from North Korea of unconditional talks to ease tensions.
An official at the Unification Ministry in Seoul said it was not a serious proposal for dialogue, adding the offer was part of a propaganda campaign.
The US has also responded coolly, saying the North must first indicate it is serious about ending its provocations.
US envoy Stephen Bosworth is in China on a round of regional talks.
The visit by Mr Bosworth - America's top official on North Korea - is part of a fresh round of diplomacy on the issue.
Tensions have been high since a North Korean artillery attack on a South Korean island last November which left four people dead.
'Propaganda campaign'
On Wednesday, North Korea said it was offering "unconditional" talks with the South to put an end to months of extreme tension.
A South Korean official said North Korea needed to do more to convince them the proposal was serious.
"North Korea previously issued statements like this early in the year... they are normally done as part of [a] propaganda campaign toward the South," a Unification Ministry official quoted by Reuters news agency said.
"We do not consider this is as a serious proposal for dialogue. It is not even in the correct and appropriate format."
Foreign Ministry spokeswoman Lee Jong-joo said Pyongyang also had to apologise for the attack and for the sinking of a South Korean warship in March 2010.
The US, an ally of South Korea, said North Korea had to show "seriousness of purpose".
China, meanwhile, said it would "support and welcome" any dialogue between the two Koreas. Beijing has called repeatedly for a return to talks.
The situation on the Korean peninsula has been very tense since the North shelled Yeonpyeong island on 23 November.
North Korea says the shelling was in response to South Korean military exercises in the area - close to the disputed inter-Korean western maritime border.
The attacks came months after international investigators blamed Pyongyang for an attack on a South Korean warship which killed 46 sailors.
In the wake of the shelling of Yeonpyeong island, the US and South Korea held large-scale military exercises in the area.