US lodges Vietnam protest after diplomat manhandled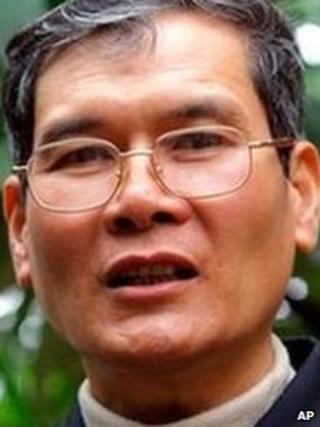 The United States has lodged an official protest with the Vietnamese authorities after one of its diplomats was physically manhandled by police.
The diplomat, a political officer at the US embassy in Hanoi, has been named by rights groups as Christian Marchant.
He was trying to meet a prominent dissident Catholic priest, Father Thadeus Nguyen Van Ly, when the incident occurred.
The news comes just ahead of the ruling Communist Party congress in Vietnam.
The American diplomat had apparently arranged to meet Father Ly in central Vietnam, where the dissident Catholic priest is currently under house arrest.
But it seems the diplomat was confronted by police as he approached the building.
When the American tried to enter, a physical confrontation developed which led to him being briefly detained.
The US State Department says it is deeply concerned by the incident and has officially registered a strong protest with the Vietnamese government and the Vietnamese embassy in Washington.
The group Human Rights Watch says the news is the latest in a series of examples of abuses committed by the police in Vietnam.
With the Vietnamese Communist Party congress scheduled to start next week, Human Rights Watch says it expects what it calls the crackdown and the police brutality to continue.