Chinese children caught in lead poisoning scare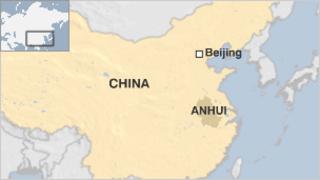 Twenty-four school children in eastern China have been taken to hospital with suspected lead poisoning from nearby battery factories.
The official Xinhua news agency said that at least 200 children in the area had elevated lead levels.
It said the authorities had shut two battery factories in Huaning county in the eastern province of Anhui.
China is the largest producer and consumer of lead for batteries, cars and electric bikes.
The children sent to hospital were aged between nine months and 16 years old.
Those affected came from homes close to battery factories, despite laws prohibiting factories from being located within 500m (1,600ft) of residential areas.
Xinhua reported that the Anhui Provincial Children's Hospital had tested about 280 children from Gaohe Township in Huaning county for lead poisoning since late December.
Most had been diagnosed with high blood lead levels, said Cheng Bangning, deputy director of the hospital's micro-elements testing laboratory.
"We can draw a clear conclusion that the lead poisoning was caused by the lead pollution of the battery plants," said Zhang Gong, director of the hospital's child healthcare department.
Excessive amounts of lead in the blood can cause damage to the digestive, nervous and reproductive systems, and also stomach aches, anaemia and convulsions.
"My son is now very cranky and restless. He yells a lot," Xinhua quoted Huang Dazhai, the father of a five-year-old boy, as saying.
The boy was found to have 330.9 micrograms (mcg) of lead per litre of blood.
A level of 100mcg per litre is considered enough to impair brain development in children.