Indonesia Muslims on trial for stabbing Christian elder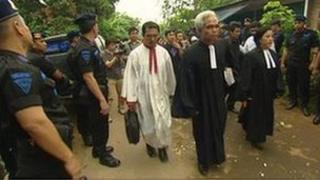 Islamic hardliners in Indonesia are standing trial accused of stabbing a Christian Church elder near Jakarta.
Police say that assailants also beat another senior member of the congregation about the head with a wooden plank during the attack.
The alleged attack on worshippers is blamed on Indonesia's Islamic Defenders' Front, or FPI.
The high-profile case has highlighted growing religious intolerance in the world's biggest Muslim nation.
One of the FPI's leaders is accused of incitement, while followers are accused of stabbing the elder in the commuter city of Bekasi.
The police say the victim's injuries were so severe that he had to undergo surgery.
Vigilantes
Religious tensions have festered in Bekasi in recent months.
Fringe Muslim groups have protested outside a protestant church arguing that it has been breaking the law by holding services without permission.
Christians say that local officials have repeatedly ignored requests to issue the necessary permits.
Shoes and water bottles have been thrown at the Christian congregation, while sermons have been interrupted by chants of "infidels".
The FPI has a strong presence in the Jakarta area and is committed to maintaining strict religious and moral codes in Indonesia.
Its critics, though, say its members are violent vigilantes who have intimidated and assaulted minority Christians.
A series of confrontations culminated in the alleged stabbing last September.
The 13 defendants accused of attacking the protestant church leader in Bekasi have denied the charges.