Kyrgyzstan to name mountain after Vladimir Putin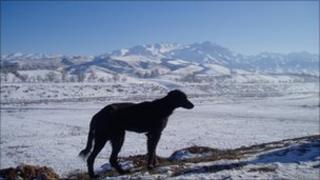 The new government of the Central Asian nation of Kyrgyzstan has decided to name a mountain after Russian Prime Minister Vladimir Putin.
The peak, which is 4,446m (14,586ft) tall, is in Chuy province in the north.
The move must be approved by parliament. But Mr Putin would not be the first Russian leader to have his own Kyrgyz mountain.
Late President Boris Yeltsin had a 3,500m peak near Lake Issyk-kul named after him in 2002.
The founder of the Soviet Union, Vladimir Lenin, has the tallest one - a 7,134m-high peak on the Kyrgyz-Tajik border.
Kyrgyzstan has also named a mountain after Santa Claus, in a bid to boost tourism.
According to Kyrgyz media reports, Prime Minister Almazbek Atambayev signed the draft law to name Vladimir Putin Peak late last year.
Parliament is expected to pass it in the near future.
Local analysts have suggested that the initiative is a way of expressing gratitude to the Russian authorities, reports Nazgul Kongurbaeva of the BBC's Central Asian service.
They point to a recent visit to the Kremlin by Kyrgyz officials during which an agreement was reached to remove tax payments for Russian fuel exports to Kyrgyzstan.
Others are seeing this as a sign of a greater orientation towards Russia on the part of the newly-approved Kyrgyz government, our correspondent says.