US visit begins new round of North Korea diplomacy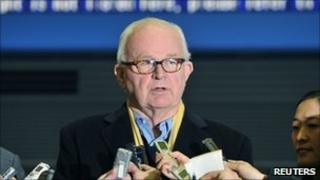 A top US envoy called for talks with North Korea as he flew into Seoul for a new round of diplomacy aimed at easing tensions on the Korean peninsula.
Stephen Bosworth said "serious negotiations" had to be central to any strategy for dealing with Pyongyang.
He said he hoped that these could happen "at a reasonably early time".
Tensions between the two Koreas have been very high since North Korea shelled a Southern island in November, killing four people.
North Korea said the attack was in response to South Korean military exercises in the area - close to the disputed inter-Korean western maritime border.
It came months after international investigators blamed Pyongyang for an attack on a South Korean warship which killed 46 sailors.
'Working together'
In the wake of the shelling of Yeonpyeong island, the US and South Korea held large-scale military exercises in the area.
China has called for a resumption of six-party nuclear disarmament talks but the US, Japan and South Korea have so far been reluctant to agree without a sign from Pyongyang that it is sincere.
In recent days, however, statements from both the Koreas have appeared more conciliatory, suggesting talks could be a possibility.
Mr Bosworth, who is the US special representative for North Korea policy, will hold talks in South Korea on Wednesday before travelling on to China and Japan.
He said he would work with regional nations to reduce tensions.
"We believe that serious negotiations must be at the heart of any strategy for dealing with North Korea and we look forward to being able to launch those at a reasonably early time," he said.
He said that Washington and Beijing would continue to work closely on the issue.
"I think, by and large, we've been working together with them very effectively. That's an important relationship for both countries," he said.
The US and Chinese presidents are due to meet in Washington later this month - with the issue of North Korea likely to be high on the agenda.