China-US row over North Korea as tensions rise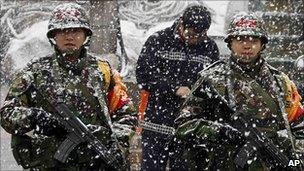 China has hit back at US comments criticising Beijing for not reining in its North Korean ally, saying military threats cannot resolve tensions on the Korean peninsula.
Earlier, top US military official Adm Mike Mullen said China was "enabling" North Korea's "reckless behaviour".
Meanwhile, China's top diplomat has met North Korean leader Kim Jong-il in Pyongyang, amid rising tensions.
State media said they "reached a consensus", but gave no details.
The US has been putting pressure on China to intervene after North Korea shelled the South Korean island of Yeonpyeong, near a disputed sea border, killing four people.
South Korea threatened to mount air strikes on the North if it carried out further attacks.
"I actually believe that because these provocations continue, and seemingly at a more frequent interval, that the danger is going up and that steps must be taken to ensure that they stop," said Adm Mullen at a news conference in Tokyo.
"Much of that volatility is owed to the reckless behaviour of the North Korean regime, enabled by their friends in China," he said.
"There is too much at stake for this sort of myopia."
Chinese foreign ministry spokeswoman Jiang Yu told a news conference that she questioned what Adm Mullen had done for "peace and stability in the region".
She called his remarks on China's support for North Korea an "accusation".
A senior team of US diplomats is to visit Beijing next week for further talks about the tensions sparked by the shelling.
China, which supplies food and fuel to North Korea, has so far refused to condemn the attack on Yeonpyeong, the first attack of its kind on South Korean civilians since the Korean War ended in a ceasefire in 1953.
China fought on North Korea's side during the war.
Adm Mullen also called on Japan, the US and South Korea to stand together against North Korea.
"I do have a real sense of urgency about addressing the potential in terms of the Korean peninsula that is much better addressed with all of us together, in terms of showing strength and getting to a point where we can deter North Korean behaviour," he said.
Both Japan and South Korea have carried out joint military exercises with the US in the past few weeks.
China has criticised those exercises as an attempt at US containment in an area Beijing sees as its own responsibility.
Adm Mullen said South Korea needed to respond to moves by the North with restraint.
North Korea has been defending its shelling of Yeonpyeong as a response to extensive live-firing from the South.
It accused Seoul and Washington of "persistently escalating tension", adding that South Korea had "persistently mocked at the (North's) sincere efforts to improve the inter-Korean relations and turned away their faces from them".
South Korea "fired as many as thousands of shells into the territorial waters of the DPRK (North Korea) side", the state news agency quoted the Secretariat of the Committee for the Peaceful Reunification of Korea report as saying.
"This reckless act was obviously a deliberate provocation to prompt the DPRK to take a military counter-action," it said.
As the latest US-South Korean talks were being held, North Korea conducted military drills in the area.
Tensions on the Korean peninsula have been extremely high since North Korea's 23 November shelling of Yeonpyeong, a small South Korean island close to the disputed western sea border.
Related Internet Links
The BBC is not responsible for the content of external sites.