Development bank: Asia economies lead world recovery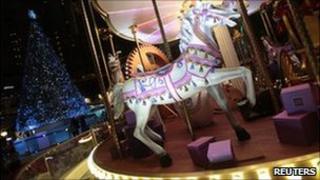 East Asia's emerging economies are leading world recovery with a likely growth rate this year of 8.8%, the Asian Development Bank says.
That will soften to 7.3%, said the ADB in its twice-annual regional report.
External conditions - notably the weakness of the US and European economies - continue to affect prospects however, it added.
The bank warned that currency wars, inflation and protectionism remained serious challenges.
"The unsynchronised global recovery - red-hot growth in emerging economies against tepid, uncertain recovery in advanced economies - pose policy challenges for emerging East Asia," said the ADB.
"Competitive non-appreciation - or 'currency wars' as some put it - may escalate into trade wars as countries try to preserve international competitiveness and exports."
The inflationary pressures and rises in asset prices also pose policy dilemmas, the bank said.
Australia left interest rates unchanged (at 4.75%) citing the global uncertainties and the strong local currency which the financial authorities said would help curtail inflation.
Economic stimulus packages are beginning to be rolled back too, the Bank said, which would contribute to the slower growth expected next year.
'Robust'
However, robust recovery was the norm across the 14 economies reviewed by the bank, driven by stronger domestic demand.
"After slowing sharply in 2008 and 2009, the East Asian economies recovered strongly in 2010 which has led GDP growth back closer to 2007 levels," said the bank.
The region had reached a record 9.6% growth in 2007.
Many of the region's stock markets also bounced back sharply, the bank said in the December edition of its twice-annual Asia Economic Monitor.
China's economy expanded by 9.6% in the third quarter, and Singapore by 10.6%, but the bank saw signs this pace would be easing off.
It also warned that the overall outlook remains "highly uncertain".
"A weaker- and longer-than-expected recovery process in advanced economies will further delay policy normalisation, increasing economic distortions and lowering long-term growth prospects," the report said.
The report examined the Asean economies - Indonesia, Thailand, the Philippines, Malaysia, Singapore, Vietnam, Cambodia, Laos and Burma - as well as China, Hong Kong, Taiwan and South Korea.