New Zealand seals clubbed to death in breeding colony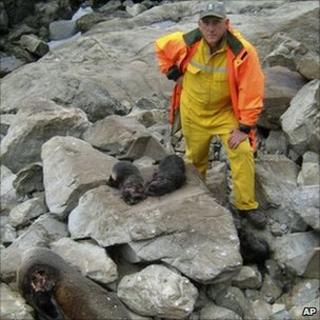 Twenty-three seals, including eight pups, have been clubbed to death at the Ohau Point seal colony near Kaikoura on New Zealand's South Island.
The seals were killed over separate days, at least a week ago, the country's department of conservation said.
Department staff described the attackers as cowardly and callous.
Fur seals are protected in New Zealand and anyone caught harming them faces six months in jail and heavy fines.
"This is a callous and cowardly attack on seals, especially newborn pups, unable to defend themselves against someone striking them with a bat or similar club-like object," said the DOC regional manager Dave Hayes.
"The fact that people presumably returned to the site to carry on with more killings indicates to us that it was quite a callous and concerted activity," he said.
'Beyond appalled'
Conservation Minister Kate Wilkinson appealed for public help in finding those responsible for the attack.
"I'm beyond appalled," she said.
"This isn't just a random act of violence. To go around and club 23 seals to death over a number of days is very deliberate and you have to question the state of mind of someone who can carry out such a cruel and abhorrent attack," she said.
It is believed the attack would have involved a person or people of some strength, given the scale of the damage.
A seal specialist at Otago University, Bruce Robertson, told the Associated Press, that the Ohau Point colony was occupied for breeding in 1990.
He said the loss of 13 breeding females in the attack was particularly serious
The seal colony stretches 2km (1.2 miles) on the east coast of the southern island and the seals were found at the bottom of a steep 30m (100-foot) cliff.
Whale-watching and other eco-tourism activities there draw almost a million people each year.
"Given this colony is increasing in size, this loss of life is a small setback," he said.
"However, large mammal populations cannot sustain the repeated loss of breeding females (and) any external influences can be detrimental."