South Korea begins live-fire military drills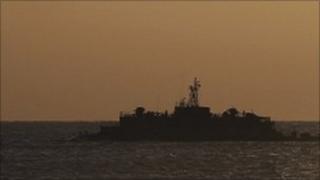 South Korea has begun a series of major live-fire exercises despite warnings from the North against conducting them.
The drills are spread off South Korea's east, west and south coasts; the most contentious area - the disputed western sea border - has been largely excluded.
It comes two weeks after North Korea shelled a Southern island in response to previous military exercises there, killing four South Koreans.
North Korea has warned that it viewed any such activity as provocative.
South Korea's new defence minister, installed after the attack on Yeonpyeong island, has said he would use air strikes against the North if it attacks civilians again.
President Barack Obama has urged China to work with the US to send "a clear message" to North Korea that its provocations against South Korea are "unacceptable".
Mr Obama made the appeal in a telephone call to President Hu Jintao.
The US is to host talks on Monday with Japan and South Korea on ways to deal with the North.
All three nations have so far failed to back China's call for a resumption of stalled six-party talks on ending North Korea's nuclear activities.
China is North Korea's most important ally and has been pressured by the US and others to use its influence to rein in Pyongyang.
Washington, Seoul and Tokyo oppose a return to the negotiations until the North shows it is serious about nuclear disarmament.
Security review
South Korea's Joint Chiefs of Staff said the firing exercises by warships and artillery units on land were being held in 29 locations, including one of five islands near the disputed Yellow Sea border with the North.
The Northern Limit Line, the maritime border declared by UN forces at the end of the Korean War in 1953, is not recognised by Pyongyang.
Japan and the US are also holding large scale military exercises, their biggest ever.
The exercises, called "Keen Sword", involve 44,000 personnel, 400 aircraft and 60 warships.
The US nuclear-powered George Washington aircraft carrier, which also took part in recent US-South Korean exercises, joined Japan's Aegis missile-equipped destroyers and F-15 jet fighters amid heavy wind and rain.
The drills were planned before the North Korean shelling of Yeonpyeong island on 23 November.
They are being held to mark the 50th anniversary of the Japanese-US alliance and last until 10 December.
A forthcoming security review in Japan is reportedly due to identify North Korea as a threat and to note China's military strength as a cause for concern.
The update of the National Defence Programme Guideline, expected this month, will include measures for Japan to respond more robustly to threats in its region, Japanese media said.
Separately, a South Korean presidential security panel has proposed more than doubling the number of its marines, a core force in defending the country's western border islands, the South Korean news agency Yonhap reported.
The Commission for National Security Review said South Korea should turn the Marine Corp into a "Rapid Reaction Force" and increase the number of marines to around 12,000 from the current 5,000 by creating another division, Yonhap said.
It was citing the findings, not yet formally announced by the government, of a review prompted by the apparent torpedoing of a South Korean warship by North Korea on 26 March, at a cost of 46 south Korean lives.
The commission also called for restoring the 24-month military service period, Yonhap said, quoting unnamed sources.