North Korea warns South against 'provocations'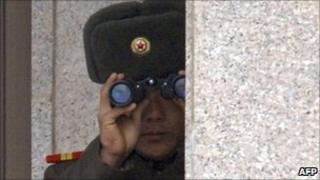 North Korea has warned the South against "provocations", including planned military live-fire drills near the disputed maritime border.
A North Korean statement said the South was causing "extreme" tension.
It is Pyongyang's first response to South Korea's new defence minister, Kim Kwan-jin, saying Northern attacks would be met with air strikes.
He spoke following North Korea's shelling of a South Korean island that killed four people.
In a statement carried by North Korea's official news agency, KCNA, Pyongyang blamed the South's government for ratcheting up tension.
"The political situation on the Korean peninsula is reaching an uncontrollable level due to provocative, frantic moves by the puppet group," said the statement.
The shelling of Yeonpyeong island on 23 November killed two South Korean civilians and two soldiers, and shocked Seoul into reviewing its rules of engagement for such incidents.
The island lies south of the Northern Limit Line, the maritime border declared by UN forces at the end of the Korean War in 1953, but not recognised by Pyongyang.
The bombardment of the island came after Southern naval drills in the area.
The shelling, and the tough statements from both sides that have followed it, have stoked tensions in the region.
At a parliamentary confirmation hearing on Friday, incoming Defence Minister Kim said: "If North Korea provokes again, we will definitely use aircraft to attack North Korea."
The South has also engaged in a flurry of military preparations, including a forthcoming live-fire drill along its coast, naval manoeuvres with the US and plans for further exercises with the US.
The just-completed naval manoeuvres were planned long before the shelling of Yeonpyeong.
The live-fire exercise, a routine training drill, was also scheduled before the bombardment, military officials said.