Philippines and communist rebels to hold talks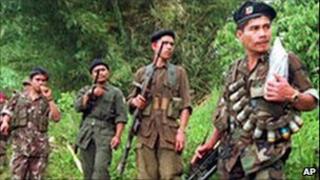 Negotiators from the Philippines government and the country's communist movement have agreed to resume formal peace talks.
After two days of informal talks in Hong Kong both sides announced that new peace negotiations would be held in Oslo, Norway, in February next year.
The agreement breaks a five-year hiatus in peace talks with the 42-year-old communist insurgency.
The communists are one of several armed rebel groups in the Philippines.
The two days of informal talks in Hong Kong appear to have put both sides to this long-running conflict in a good mood.
'Fruitful and cordial'
Alexander Padilla and Pablito Sanidad - backed by the relatively new Philippine president, Benigno Aquino - said the Hong Kong talks had been open, friendly, free-wheeling and meaningful.
On the other side, Luis Jalandoni is the 71-year-old chief negotiator for the National Democratic Front.
The Front groups the Communist Party of the Philippines and its armed wing, the New People's Army, with other leftist organisations.
"it was a positive meeting. I even called it meaningful, fruitful and cordial," said Mr Jalandoni.
"First of all we could relate with the two of them because they were also involved in the anti-Marcos movement, against the dictatorship."
Few illusions
Communist resistance to the martial law of the late President Ferdinand Marcos marked the movement's high point - efforts at peace have gone on and off since 1992.
Now, Mr Jalandoni says he is hopeful of an end to an insurgency that has claimed tens of thousands of lives.
A truce agreed for the Christmas period must be seen to hold.
The military will want assurances that communist promises can be trusted; the leftists want extra-judicial killings to stop and detained comrades to be released.
There can be few illusions about the difficulties that still lie ahead.