US-Japan naval drills start as N Korea tensions rise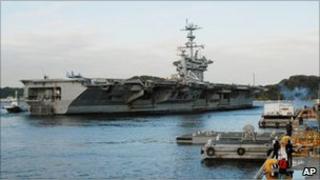 Japan and the United States have begun their biggest ever joint military exercises, amid growing tension in the region between North and South Korea.
More than 44,000 Japanese and American military personnel are taking part in the drill off Japan's southern islands.
Forty Japanese and 20 US warships are also involved, as are hundreds of military aircraft.
The exercises come 10 days after North Korea shelled a South Korean island, killing four people.
South Korean observers are present for the first time.
'Immediate threat'
The joint military exercises - codenamed Keen Sword - are being held to mark the 50th anniversary of the US-Japan alliance.
They are intended to be a show of solidarity between the Pacific allies at a time of heightened tension in the region, says the BBC's Roland Buerk in Tokyo.
The drills were planned well before North Korea shelled the South Korean island of Yeonpyeong last month, killing two marines and two civilians.
But they come just days after the United States and South Korea carried out their own joint military exercises, putting on a show of force in the Yellow Sea.
US Secretary of State Hillary Clinton said North Korea remained "an immediate threat to the region around it, particularly to South Korea and Japan".
North Korea also posed "a medium-term threat, should it collapse, to China", she said.
Beijing has criticised the manoeuvres and called for more talks with Pyongyang, saying it is better to negotiate than "brandish weapons".
Japan's government has been on high alert since North Korea shelled the island of Yeonpyeong on 23 November, killing at least four South Koreans.
Japan's Prime Minister Naoto Kan ordered his ministers to step up information-gathering and be prepared for emergencies.
About 50,000 US troops are stationed in Japan.
The US-Japan exercises will continue until 10 December.