New Zealand service pays tribute to miners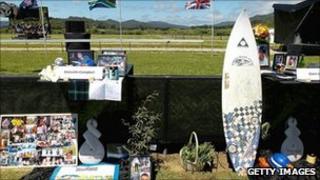 More than 10,000 people have attended a memorial service for the 29 miners killed in a New Zealand coal mine.
Mourners around the country observed two minutes' silence for the dead.
The memorial service in Greymouth featured 29 tables on which the personal belongings of the miners had been placed by relatives.
A series of underground explosions which began on 19 November killed the men at Pike River Mine as toxic gases prevented any rescue operation.
A Royal Commission of Inquiry has been ordered into how the tragedy occurred.
Nation mourns
Leading the service, Reverend Tim Mora said that "our nation Aotearoa New Zealand gathers to stand with us", using the native Maori word for the country.
"This morning, you as families came and decorated those tables. You made them very personal... and as I wandered down those tables, those men came alive for me.
"It wasn't just 29 names any longer; there were 29 faces, there were their hobbies, their interests, there were the people that they loved, and I think every one of us who have seen these 29 tables has felt that," he said.
Maori elders, who had previously held prayers at the mine site, also opened the memorial service with prayers.
New Zealand Prime Minister John Key was at the service held at Greymouth's Omoto Racecourse; he has said that all New Zealanders shared the families' grief.
Also speaking at the memorial were the Governor-General Sir Anand Satyanand, the Grey District mayor Tony Kockshorn and Pike River Coal chief executive Peter Whittall.
The service was broadcast live nationwide by Radio New Zealand.
Mr Whittall reassured the mourners that Pike River Coal will continue to try to recover the men's remains.
"Our men are still in the mine and the mine is still holding us out," he said.
"We're fighting to win the battle with science, with courage, with tenacity and sheer bloody determination."
The victims included two Australians, two Britons and a South African.