Rare insight into secretive China-N Korea ties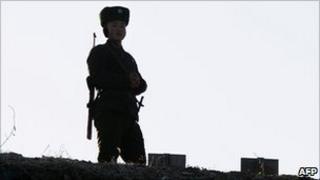 The documents released by Wikileaks provide a fascinating insight into the relationship between two of the world's most secretive nations - China and North Korea.
Official statements from both countries rarely stray from well-worn diplomatic language and are often hard to interpret.
But these leaks - using bold and clear language - lay out what appears to be China's growing frustration with North Korea.
Although China has declined to comment on the content of the reports, it will no doubt be embarrassed by many of the revelations.
The reports are a series of documents sent between the United States and its foreign embassies.
In them, China appears to be coming round to the idea that both North and South Korea might one day reunite - under the South's control.
In one report China's Vice-Foreign Minister He Yafei apparently played down a visit to Pyongyang by Premier Wen Jiabao.
"We may not like them," he is reported to have told James Steinberg, deputy US secretary of state, but "they are a neighbour".
There appears to be a split among China's senior leaders about how to treat North Korea.
That comes from the report on a meeting between South Korea's former Vice-Foreign Minister, Chun Yung-woo, and US ambassador to Seoul Kathleen Stephens.
In that despatch Mr Chun reportedly says some Chinese officials were willing to "face the new reality" that North Korea was of little value to China as a buffer state.
But others appear not to welcome this position, including Wu Dawei, the senior Chinese official involved in talks aimed at getting rid of North Korea's nuclear weapons.
In another report from February Mr Wu is described as "an arrogant, Marx-spouting former Red Guard", referring to the youngsters who spearheaded Mao Zedong's chaotic Cultural Revolution in the 1960s.
Investment deals
China is North Korea's only real ally, providing it with economic and diplomatic support, but there appears to be a limit to how much information even it gets from Pyongyang.
North Korean leader Kim Jong-il is believed to have had a stroke in 2008, but China was still looking for signs of it the following year, according to the leaks.
Senior Chinese Communist Party official Wang Jiarui met Kim Jong-il in 2009, says a US diplomatic cable out of Seoul.
"Wang could not detect any scars on [Kim Jong-il's] head after his widely reported surgery after suffering a stroke," read the despatch.
With a failing economy, North Korea seems keen to attract as much Chinese aid as possible.
One report says Kim Jong-il - described by one Chinese official as a man who likes a drink - visited China earlier this year to get more economic assistance.
The country also wants as much Chinese investment as possible.
Another document, sent from the US consulate in Shenyang earlier this year, says some North Korean officials are selling mining and fishing rights to Chinese businesses in exchange for funds for construction projects.
It goes on to say that this arrangement sometimes allows the children of high-ranking officials in both countries to "hijack the most favourable investment and aid deals for their own enrichment".
'No disturbance'
Beijing has kept its comments on the reports brief.
"China takes note of the relevant reports. We hope the US side will properly handle the issue," said Chinese foreign ministry spokesman Hong Lei at a regular press briefing on Thursday.
"We do not want to see any disturbance to China/US relations," added Mr Hong, ignoring a question about whether there had already been any disturbance because of the leaks.
It was another diplomatic side-step by a well-briefed official speaking in public.
But these leaks show that China's government employees are capable of being far more candid in private.
The Chinese ambassador in Kazakhstan, Cheng Guoping, was apparently relaxed and eager to engage when he spoke to his US counterpart about North Korea and other subjects.
He provided, wrote the US ambassador Richard Hoagland, a "fascinating, wide-ranging, three-hour tour d'horizon".