Gunmen kidnap 11 in Philippines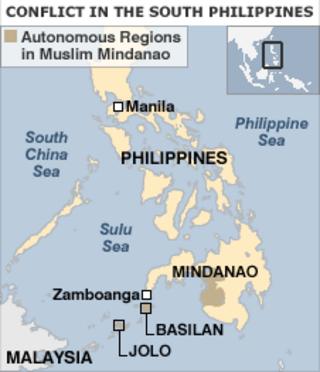 At least 11 people have been kidnapped in the southern Philippines, in what police say is probably a feud between rival clans.
The hostages are fishermen from the island of Basilan.
The gunmen are demanding ransom money and weapons in return for their release.
The 11 villagers were intercepted by a group of gunmen when they returned from a fishing trip.
Police say they were taken out of the town of Ungkaya Pakan at gunpoint.
The Islamic militant group Abu Sayyaf is active in the area, and is known to kidnap people for ransom.
But investigators think clan rivalry is a more probable motive.
Family feuds can cause deep divisions in the southern Philippines.
Members of the powerful Ampatuan family are accused of killing 57 people in the province of Maguindanao last year, in an attempt to prevent a rival family from challenging them in an election.
They deny the charges.