Taiwan: Ruling Kuomintang boosted in mayor elections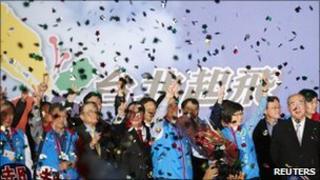 Taiwan's ruling Kuomintang has won mayoral seats in three of the island's five biggest cities, in elections seen as a major test of President Ma Ying-jeou's policies.
With almost all votes counted, the Kuomintang had taken Taipei, the Taipei suburb of Xinbei and Taichung.
The opposition Democratic Progressive Party won Kaohsiung and Tainan.
Correspondents say the results are seen as an endorsement of the KMT's push for warmer relations with China.
Presidential race
Taiwan and Beijing signed a landmark free-trade agreement this year and more deals are expected, making the two economies ever more closely linked.
The BBC's Cindy Sui in Taipei says President Ma's pro-China policies have been controversial, but many see closer ties with China as necessary for the island's economic survival.
When the opposition DPP was in power, she says, tension between Taiwan and China ran high because the party favoured Taiwan's formal independence from China.
The elections were also marred by the shooting in the face of the son of Taiwan's former Vice President Lien Chan.
Lien Sheng-wen is stable after being shot while campaigning.
The DPP did improve its share of the vote compared to the presidential election results in the same constituencies in 2008 and analysts say the performance of party chairwoman Tsai Ing-wen in losing in Xinbei may give her some momentum for a 2012 presidential nomination.
The mayoral results mark a turnaround for the Kuomintang, which fared poorly in local elections last year and in by-elections this year.