N Korea warns war drills take region to 'brink of war'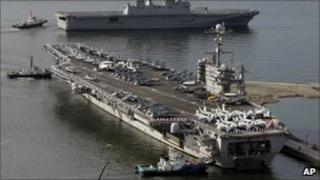 North Korea has warned that impending joint military exercises by the South and the US are pushing the region to "the brink of war".
A group of naval ships, led by a nuclear-powered US aircraft carrier, is heading to the Yellow Sea to take part in the drills, due to begin on Sunday.
At least four South Koreans died on Tuesday when the North shelled the Southern island of Yeonpyeong.
The incident has led to the South replacing its defence minister.
Kim Kwan-jin, 61, a former chairman of the joint chiefs of staff, has been named to replace Kim Tae-young, who resigned after criticism that he was too slow to respond to the attack on Yeonpyeong.
The barrage of shells was one of the worst incidents between the two Koreas since the end of the Korean war in 1953, which concluded without a peace treaty.
"The situation on the Korean Peninsula is inching closer to the brink of war due to the reckless plan of those trigger-happy elements to stage again war exercises targeted against the [North]," the North's official KCNA news agency said.
'Outrageous act'
Fresh artillery-like sounds were heard on North Korean territory close to Yeonpyeong on Friday.
The BBC's Chris Hogg, in Seoul, says military sources reported that it could have been a military exercise by the North.
However, he says many on the island suspect it may be an attempt to manipulate a tense situation. Residents were ordered to take cover in shelters.
The US commander in South Korea, Gen Walter Sharp, was inspecting the damage on Yeonpyeong on Friday but US officials said he did not hear the latest blasts.
Gen Sharp said Tuesday's attack was a clear violation of the 1953 armistice.
"We at United Nations Command will investigate this completely and call on North Korea to stop any future attacks," he said.
Meanwhile, Japan's parliament on Friday adopted a resolution calling the attack "an outrageous act of violence".
The resolution said Japan "should consider new sanctions and make more efforts to strengthen ties with countries concerned in order to step up international pressure on North Korea".
Tougher stance
Pyongyang blames Seoul, which was holding military exercises close to Yeonpyeong at the time, for this week's incident.
North Korea has warned it will "wage second and even third rounds of attacks without any hesitation if warmongers in South Korea make reckless military provocations again".
Though organised well ahead of this week's attack, the upcoming four-day US-South Korea naval manoeuvres are a show of defensive strength which, as well as angering North Korea, have also unsettled China, its major ally.
China on Friday issued a warning against military activity in the area.
Foreign ministry spokesman Hong Lei said: "We hold a consistent and clear-cut stance on the issue. We oppose any party taking any military actions in our exclusive economic zone without permission."
That zone extends 320km (200 miles) from China's coast and includes areas south of Yeonpyeong, although no specifics of the US-South Korea drills have been published.
Beijing has not apportioned blame over Tuesday's attack and has urged both sides to show restraint.
The US has urged China to use its influence over North Korea to calm the situation.
South Korea has already increased troop numbers on Yeonpyeong and has said it is changing its rules of engagement to allow it to respond more forcefully to similar incidents.
The cabinet had decided that under the old rules of engagement there was too much emphasis on preventing a military incident escalating into something worse, says our correspondent.
A presidential spokesman said the South would implement different levels of response in the future, depending on whether the North attacked military or civilian targets.
Earlier, officials said President Lee Myung-bak had accepted Kim Tae-young's resignation "to improve the atmosphere in the military and to handle the series of incidents".
Public affairs spokesman Hong Sang-pyo said Kim Kwan-jin, who served as chairman of the joint chiefs of staff from 2006 to 2008, would act to "restore people's trust in the military and enhance military morale".
This week's tension comes as the North is undergoing an apparent transition of power from leader Kim Jong-il to his young son Kim Jong-un.