Chinese rabbit-crushing video condemned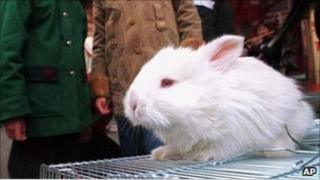 Video footage on the internet of young Chinese women crushing rabbits to death, apparently for fun, has been condemned in China.
One of the alleged culprits has apologised after being identified by Chinese internet users.
Some people are calling on the government to pass laws to protect animals from such cruelty.
An investigation suggests the videos were made to sell to foreign "crush fetishists".
In one widely-circulated video, a group of young women, smiling and giggling, cuddle and play with small rabbits and then crush them to death.
A woman places a rabbit on a table in one scene, covers it with a glass plate, then sits on it until the animal dies.
In another, a woman crushes a young rabbit with her stiletto shoes.
'Sexual deviancy'
Angry viewers said one of the women spoke with the accent of people from Sichuan province, in south-western China.
A search for her was launched there and according to reports she was identified as a woman from Luzhou.
The 26-year-old said she was forced to appear in the video by an unscrupulous boss when she was an intern.
At the beginning, she said, she was asked to crush fruit, then progressed to fish, lobsters and other live animals.
She was paid about 100 yuan ($15; £10) for crushing fruit, 200-300 yuan for certain small animals and up to 6,000 yuan for rabbits.
She said she was told that the video was for foreign viewers, and threatened with exposure in the Chinese media if she refused to carry on.
Some people have suggested the video was made by "animal-crushing enthusiasts", but an investigative journalist said he had managed to infiltrate the group.
He said the videos were being made for profit and sold to "crush fetishists" abroad, especially in the United States.
As China gets richer, more and more people have pets and some local associations have been formed to protect animals, but as yet there is still no law to punish animal cruelty in China.
A bill to ban such videos is about to be voted on in the United States.
The Humane Society of the United States says animal-crush videos typically show scantily-clad women inflicting the abuse to satisfy the sexual deviancy of viewers.