Why border hot-spot is Korean War relic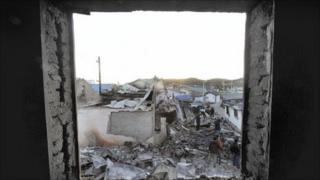 An artillery strike on a South Korean island has focused global attention once again on what is now one of the world's tensest flashpoints: the maritime border between the two Koreas in the Yellow Sea.
That border is the Northern Limit Line, or NLL. The name alone gives away its history.
At the conclusion of the 1950-53 Korean War, the line was unilaterally drawn by the United Nations Command as a line beyond which South Korean vessels were not to venture.
While the NLL is now considered the de facto sea border by South Korea and its powerful American allies, North Korea has always disputed it, drawing a very different line of its own.
War legacy
The drawing of the NLL, with a northward curve from the land border, left in South Korean hands five islands that lie just off the North Korean coastline.
North Korea had little choice but to abandon them during the war, for while the North Korean and Chinese armies were powerful forces, neither state had a navy capable of challenging the United Nations naval units deployed against them.
These islands are now something of a strategic albatross round South Korea's neck, for the ships and ferries which supply them are literally in the gun sights of North Korean coastal artillery, anti-shipping missiles and patrol boats.
But though they may be defensively ill-sited, they do provide South Korea with a useful balcony from which to spy on the North Korean coast, and during the war, offshore islands were frequently used as staging areas for partisan operations and raids.
Today, while they have small populations of civilians, largely engaged in fishing, they are heavily garrisoned by South Korean marines - the elite of the South's tough military.
Seen in this sense, they could provide staging bases for flanking amphibious attacks into North Korea if South Korea ever takes the offensive.
Newest front
From the 1960s to the 1980s, North-South clashes occurred along the land border, the demilitarised zone, and more latterly in spy and special forces missions on and beyond the peninsula, such as the bombing of South Korea's cabinet in Rangoon in 1983 and the bombing of a South Korean airliner in 1987.
Pyongyang's strategy appears to have changed, with a new focus on the NLL, in 1999, when a fatal gunboat clash flared in the area.
In 2002 - in an action that seems clearly to have been arranged by North Korea to coincide with South Korea's last football match on home ground in the 2002 Korea-Japan World Cup - another fatal naval gunfight broke out along the maritime border. There were further clashes in 2004, and again in 2009.
But the most serious incidents have occurred this year, with North Korea twice employing weapons systems that have not been used since the war: torpedos and artillery.
In March, 46 sailors died when a South Korean corvette was sunk off the island of Baegnyeong, in what a South Korea-led international investigation found was a North Korean torpedo attack.
And on Yeonpyeong on Tuesday, North Korea fired coastal artillery at a marine base - also hitting a civilian village.
Pyongyang claims that it returned fire after South Korean marines on the island opened fire first, refusing to cease even when the North protested via telephone (itself, an unusual step).
South Korea admits it was conducting a firing exercise at the time, but says it was shooting into the sea to the south and west of the island.
Those areas could well be in waters claimed by North Korea as its own. But this does not explain why North Korea decided to open fire on this date and not earlier, when similar exercises were held.
Fishing ground
More generally, it is also unclear why North Korea is currently so focused on asserting itself around the NLL.
One reason may be the prizes lying beneath. The NLL area is the site of rich crab fishing grounds, with Chinese, North Korean and South Korean boats all wanting their share of the catch. For sanction-struck North Korea, marine product exports are one of its last few sources of hard currency.
With many Yeonpyeong residents reportedly saying they will not return to the island after the bombardment, North Korea may have advanced towards one of its goals, if that goal is to reduce the islands' civilian populations.
Though it is a navigators' nightmare, frequently blanketed in heavy fog, dotted with islets, and boasting a high tidal range that exposes offshore mudflats, the Yellow Sea coastline that lies broadly west of Seoul has always been a critical area for those with a strategic interest in the peninsula, for it commands the Han River estuary, which leads up into Seoul.
Early French, Japanese and American raids on Korea, designed to open up "the hermit kingdom", took place in this area in the 1860s.
The second battle of the Russo-Japanese War in 1904 occurred when the Japanese battle fleet ambushed Russian warships in the port of Inchon (today the South Korean port serving Seoul). And Inchon - today spelled Incheon - was the site of Gen Douglas MacArthur's amphibious landing that turned the tide of the Korean War in 1950.
On Sunday, a US carrier battle group steams into the area for joint exercises with the South Korean navy. With the Yellow Sea regarded virtually as a Chinese lake by Beijing, these manoeuvres are certain to anger China's leadership.
If that happens, North Korea will have won some sort of victory: it will have driven a wedge between Beijing and Washington, and reaffirmed the support of its only real ally.
Andrew Salmon is the Seoul-based author of the Korean War histories To The Last Round: The Epic British Stand on the Imjin River, Korea, 1951, and the forthcoming Scorched Earth, Black Snow: The Commonwealth Vs Communism, Korea, 1950