Burma shuts down Aids clinic over 'hygiene concerns'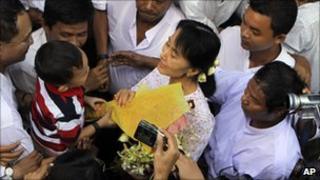 Burma says it ordered the eviction of HIV/Aids patients from a centre in Rangoon on the grounds of "hygiene".
The state-run Myanmar Ahlin newspaper quoted health officials saying they had found it unhygienic and over-crowded after inspections in July and August.
The order for the centre to close came shortly after a high-profile visit by pro-democracy leader Aung San Suu Kyi.
An official at the clinic said he believed the two were linked, and that patients are refusing to leave.
The shelter, which is run by supporters of Aung San Suu Kyi, accommodates 82 patients, including young children.
The Health Ministry has ordered patients to leave by Thursday but Mr Yazar, who uses one name, denied the centre was unhygienic.
He admitted it was crowded but said measures were taken against the spread of disease.
The government has offered places at state-run facilities to the patients but Mr Yazar says patients don't want to leave.
First public engagement
Meanwhile, Aung San Suu Kyi has visited Rangoon's Shwedagon Buddhist temple with her younger son, Kim Aris.
It was their first public engagement since their reunion on Tuesday after a decade apart.
Mother and son held hands as they walked in the pagoda, before praying, sharing flowers and sprinkling water on statues.
Every move Aung San Suu Kyi has made since her release from house arrest on 13 November has been closely watched - and has drawn large crowds.
Burma's military rulers have not placed any restrictions on her movements but, says BBC Burmese editor Tin Htar Swe, they may well try to make things uncomfortable for her.
The generals dislike her high profile and would not be pleased that she had raised the issue of HIV/Aids, Tin Htar Swe says.