North Korea firing: Why now?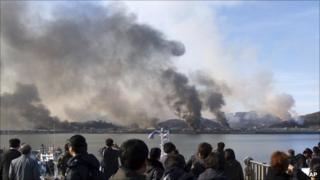 North and South Korea have exchanged artillery fire across the disputed western maritime border. The BBC looks at what might have triggered the incident.
Power transfer
Some analysts believe that provocative acts by North Korea are closely linked to the leadership transfer under way inside the secretive country. Kim Jong-il - who is believed to be in poor health - is thought to be in the process of trying to hand over power to his designated successor, his son Kim Jong-un.
In September North Korea's ruling party held a rare congress in which the younger Kim was given key roles in the party and the Central Military Commission.
Analysts say incidents such as the sinking of the Cheonan warship in March and the recent artillery firing are unlikely to be rogue actions by the North Korean military. Rather, they are aimed at bolstering Kim Jong-un's standing.
"It seems inevitable that it is related to North Korea's succession," said Mark Fitzpatrick of the International Institute for Strategic Studies. "(Kim Jong-un) has no accomplishments to his record. But if he can appear to be in charge of a military that is achieving some kind of military success, it would probably aid his succession."
Power struggle
Former US Assistant Secretary of State Christopher Hill led the US delegation in the six-party talks aimed at resolving the North Korean nuclear crisis.
He says the North Korean military is increasingly taking its own orders, and that this latest act was taken unilaterally by the military without "political cover".
Mr Hill says there are increasing questions over civilian authority in North Korea.
"North Korea is going through a very difficult internal transition. It's very clear the North Korean military is unenthused about the proposed succession from Kim Jong-il to his son.
"There are a lot of problems there and I think we are seeing that manifest in the way they behave to the outside," he says.
Nuclear deadlock
North Korea has in the past sought to raise tensions as a way of strengthening its negotiating position, particularly in relation to the nuclear issue.
Six-party talks involving the US, China, Russia, Japan and the two Koreas aimed at ending North Korea's nuclear programme have been stalled since April 2009. Pyongyang agreed in 2005 to abandon its nuclear ambitions in return for aid and political concessions. But the deal fell apart over the issue of verification - and in particular over whether or not North Korea had a uranium enrichment programme, in addition to its plutonium programme.
US doubts proved well-founded; In November 2010 North Korea revealed a modern uranium enrichment facility equipped with more than 1,000 centrifuges to a visiting top US scientist. US official said they were stunned at the scale of the facility but not at all surprised that it existed.
Hours before the artillery fire incident occurred America's top envoy on North Korea, Stephen Bosworth, said that the US could not "contemplate resuming negotiations while active programmes are under way".
Military exercises
Communications have traditionally been fraught between the North and South Korean militaries and the two have clashed on numerous occasions in the past, particularly in the tense western border area.
South Korea recognises the Northern Limit Line, drawn unilaterally by the US-led United Nations Command to demarcate the seas border at the end of the Korean War - but North Korea does not.
South Korea says the shelling began after North Korea sent several messages protesting against military exercises being staged near the island, which lies 3km (two miles) from the disputed maritime border.
South Korea began an annual military exercise in the area on Monday.
Aid woes
The South Korean president's stance on economic aid has led to a marked deterioration in relations between the two sides.
Since Lee Myung-bak took office in 2008, the flow of aid has fallen to a trickle. He says that the provision of aid must be linked to progress on denuclearisation.
North Korea relies on aid to feed its people and under Mr Lee's predecessor, Roh Moo-hyun, received regular cross-border shipments - so the move has hit hard.
North Korea has also been hit by flooding in recent years, damaging harvests, and both United Nations and US sanctions continue to bite, leaving its economy in chaos.
Sabre-rattling
North Korea wants both economic aid and the attention of the US - and has in recent weeks called for nuclear talks to resume, albeit on its terms.
The country has in the past used high-profile actions such as missile launches to position itself higher on the international agenda and refocus attention on it.