US envoy: N Korea nuclear plant 'provocative'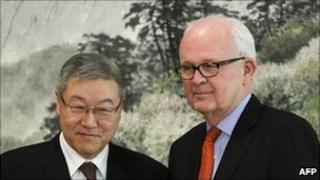 US: N Korea plant 'provocative'
Evidence of a new North Korean nuclear programme is disappointing and provocative, says top US envoy on North Korea, Stephen Bosworth.
He said the uranium enrichment plant was in violation of a UN resolution but added that it was "not a crisis".
A US nuclear scientist who recently toured the site says he was "stunned" by the sophistication of the reactor.
Japan called the revelation "absolutely unacceptable". Enriched uranium can be used for fuel or made into weapons.
North Korea's claim to have developed an advanced uranium enrichment facility has prompted widespread condemnation, with senior officials in Washington, Tokyo and Seoul expressing concern.
'Violation'
"This is obviously a disappointing announcement. It is also another in a series of provocative moves," said Mr Bosworth, who is in the region to try to find ways of restarting nuclear disarmament talks.
He said the new evidence showed North Korea to be in violation of a UN resolution and a September 2005 six-nation deal, under which the North agreed to end its nuclear programme in return for aid, and diplomatic and security benefits.
North Korea - which conducted nuclear tests in 2006 and 2009 - pulled out from the six-nation talks last year.
But Mr Bosworth said he thought those negotiations could be "resuscitated" but there would be "no talking just for the sake of talking".
The BBC's John Sudworth in Seoul says the decision to put the reactor on display appears designed to strengthen North Korea's negotiating hand.
It follows the publication of a report by US nuclear scientist Siegfried Hecker on his trip last week to North Korea's Yongbyon nuclear complex, which is about 100km (60 miles) north of the capital Pyongyang.
He said he had been shown an experimental light-water nuclear reactor that was still under construction and a new facility that contained "more than 1,000 centrifuges" that the North Koreans said was processing low-enriched uranium to fuel the new reactor.
The North Koreans told him the facility contained 2,000 centrifuges.
He said the facility seemed designed primarily for civilian nuclear power but could be easily converted to further process uranium to weapons grade.
The Stanford University scientist described the plant as modern and clean - unlike all the other Yongbyon facilities he had seen - and said he was stunned at its sophistication.
'Belligerent'
North Korea has long been turning its spent reactor fuel into weapons grade material, although if it does eventually perfect uranium enrichment as an alternative source, the process - which does not need a large nuclear reactor - is much easier to hide from spy satellites.
US Defence Secretary Robert Gates said the new facility would allow the North to build "a number" of nuclear devices in addition to the handful it is believed to have already.
The US head of the Joint Chiefs of Staff, Admiral Mike Mullen, said the new nuclear facility was further evidence of Pyongyang's "belligerent behaviour", and that North Korea was "continuing on a path which is destabilising for the region".
"It confirms or validates the concern we've had for years about their enriching uranium, which they've denied routinely," he said.
In September last year, after having denied enriching uranium, North Korea said it was in the final stage of uranium enrichment, and further warned that it was continuing to reprocess and weaponise plutonium.
Adm Mullen said the latest report of the North's nuclear activity should be seen in the light of the March sinking of a South Korean warship, which Seoul and Washington blamed on Pyongyang.
The sinking of the Cheonan in a suspected torpedo attack left 46 South Korean sailors dead and inflamed tensions on the Korean peninsula.