Burma Aids clinic eviction after Suu Kyi visit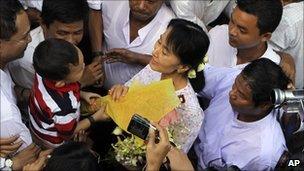 Residents and staff at an HIV/Aids centre in Rangoon have been told that they will have to leave, two days after a high-profile visit by Aung San Suu Kyi.
The Burmese pro-democracy leader drew large crowds when she met residents at the clinic on Wednesday.
Late on Thursday, local officials told people at the clinic that their resident permits would not be renewed.
Mr Yazar, the clinic manager, said he believed the two were linked.
"I think they were shocked to see the crowd when Daw Aung San Suu Kyi visited the centre," he told BBC Burmese.
"So many people came to support her and the patients. This could be the main reason they are worried about."
The clinic, in eastern Rangoon, is run by a high-profile member of the youth wing of Ms Suu Kyi's National League for Democracy party.
The 80 patients - some of whom come from outside Rangoon - require government-issued monthly residence permits to stay at the clinic.
They were told late on Thursday that these would not be renewed and they would have to move out.
"Even I have nowhere to live apart from this centre," Mr Yazar said.
"And the patients have nowhere to go. They used to stay at the monasteries before the 2007 September monks' protests, but since the protests the government does not allow patients to stay at the monasteries."
He said staff and patients had no option but to stay put.
Htin Aung, a patient at the clinic, said he needed access to treatment.
"I don't think we can move. In our home towns, I see all the patients die. Here we have a systematic treatment and we have medicines," he said.
About 500 people gathered at the clinic on Wednesday to see Ms Suu Kyi, who was released from years of house arrest on Saturday.
She called for better funding for anti-retroviral drugs to help HIV/Aids patients. A UNAIDS report in 2007 estimated that 240,000 Burmese people were living with HIV/Aids.
Burma's military rulers have not placed any restrictions on Ms Suu Kyi's movements but, says BBC Burmese editor Tin Htar Swe, they may well try to make things uncomfortable for her.
The generals dislike her high profile and would not be pleased that she had raised the issue of HIV/Aids, Tin Htar Swe says.
Related Internet Links
The BBC is not responsible for the content of external sites.