Indonesia maid 'killed in Saudi Arabia'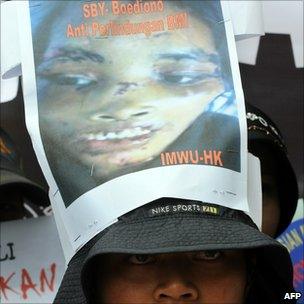 Indonesia has demanded an inquiry into reports that a maid working in Saudi Arabia was killed by her employers and her body dumped on a roadside.
President Susilo Bambang Yudhoyono said a team had been sent to the Saudi town of Abha to investigate reports of the murder of 36-year-old Kikim Komalasari.
It comes as officials arrived in Saudi Arabia to follow up claims of torture against a second Indonesian maid.
Sumiati Binti Salan Mustapa is recovering in hospital in Medina.
Her injuries include gashes to her face and cuts to her lips, allegedly inflicted by her employers using scissors. She was also burned with an iron and suffered internal injuries, officials say.
Indonesia's president has demanded justice for the "extraordinary torture".
Indonesian media reported on Thursday that the Saudi Arabian government had arrested the female employer of Sumiati, and apologised for the maid's treatment.
Reports of the murder of a second maid came on Friday.
Indonesia's labour minister Muhaimin Iskandar said Ms Komalasari's neck had been slashed and she had severe cuts to the rest of her body.
Indonesia's president described it as "beyond inhumane".
Indonesian Foreign Ministry spokesman Michael Tene told the BBC that the Saudi envoy had denounced the crime and promised to bring the perpetrators to justice.
An Indonesian official said he had been told that Ms Komalasari's employers had been arrested.
Earlier Indonesia's cabinet met to discuss the need for greater protection of the country's migrant workers in the Middle East. There are estimated to be about one million.
Rights organisations say many foreign domestic maids in Saudi Arabia work in harsh circumstances and often suffer abuse from their employers.
Mr Tene said Indonesia was pushing for a memorandum of understanding through diplomacy, but said he was aware that Saudi Arabia does not have such a deal with any other country.
The Saudi Labour Ministry has in the past acknowledged some problems with the treatment of domestic staff, but the government also says foreign workers' rights are protected under Islamic law.
Related Internet Links
The BBC is not responsible for the content of external sites.