Thai protest six months after bloody crackdown
By Vaudine England
BBC News, Bangkok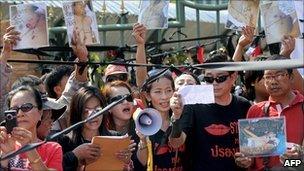 Six months after a violent crackdown on anti-government protests in the Thai capital, Bangkok, so-called red-shirt protesters are gathering for a rally.
Emergency laws still in force in Bangkok ban gatherings of more than five people but small red-shirt events have been tolerated in recent months.
The government has charged some protest leaders with terrorism.
But relatives of the 90 killed when Thai troops ended the protests on 19 May say they want justice.
Several hundred anti-government protesters in their trademark red shirts are beginning to gather at the famous Ratchaprasong intersection in the heart of Bangkok.
Fighting between troops and protesters on 19 May, and an earlier failed attempt on 10 April, left 90 people dead, most of them civilians.
Earlier this week, investigators said they had looked into 18 of the killings.
It found that 12 were committed by members of the United Front for Democracy against Dictatorship - the umbrella group for the anti-government movement.
It said six other cases needed further investigation.
Relatives of those killed have expressed outrage at the conclusions.
They are angry that it is still so difficult to establish who did what to whom six months ago.
Independent observers agree that perhaps a dozen of those killed were soldiers - but note that no-one has been brought to account for the majority of deaths.
Instead, terrorism charges have been laid against several red-shirt protest leaders; others are still on the run; and well over 100 red-shirt supporters are also still in prison.
Several committees were set up to pursue what the government called reconciliation after the protests revealed deep divisions in Thai society.
Little has been heard from the committees, and people involved in a truth and reconciliation body say it has proven difficult to get firm information from the relevant government departments.
The government claims to have restored peace to the country - but clearly the red-shirts and their grievances have not gone away.