Burma's political prisoners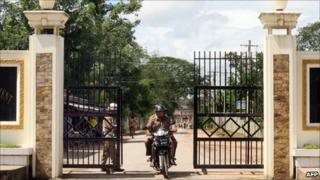 Burma has released a number of prominent political dissidents from its jails since a nominally-civilian government took power after elections in November 2010 following years of military rule.
Those freed in a series of amnesties from the country's 43 prisons include student leaders and journalists.
Human rights groups say at least 300 political prisoners remain in jail. The following are some of the high-profile prisoners freed.
88 Generation: Min Ko Naing (Paw U Tun)
Min Ko Naing, 49, was born in Rangoon on 18 October 1962. Originally named Paw U Tun, his alias means "conqueror of kings".
He is the best-known member of the 88 Generation Students group, which is synonymous with the struggle for democracy.
The group derives its name from a pro-democracy uprising in 1988 that saw thousands of protesters killed. Min Ko Naing was considered the unofficial leader of the underground student union at the time.
He was arrested in 1989 and spent 15 years in jail before being released in November 2004.
He was once again arrested in 2007 for organising demonstrations related to protests over a fuel price rise. He was sentenced to 65 years in prison in 2008.
It was reported that he was held in solitary confinement for at least 23 hours every day for part of his prison term. He was also said to be suffering from illnesses including a severe hearing problem, eye infection and high blood pressure, but was said to have been denied proper medical treatment while in prison.
Min Ko Naing was released on 13 January 2012.
88 Generation: Ko Jimmy (Kyaw Min Yu) and Nilar Thein
As veteran members of Burma's 88 Generation Students, Nilar Thein and Kyaw Min Yu - known as Ko Jimmy - are both familiar with their country's penal system. Ko Jimmy served 16 years in prison for his involvement in the pro-democracy movement, while Nilar Thein served eight years for taking part in student demonstrations.
After being released they got married and in 2007 had a daughter. But in August 2007 Ko Jimmy was arrested for taking part in the street protests triggered by a government-ordered fuel price rise. Nilar Thein went into hiding but was later caught.
On 11 November 2008 she and her husband were jailed for 65 years each. The charges were four counts of illegally using electronic media (15 years each), plus five years for forming an illegal organisation.
The couple were released on 13 January 2012.
Monk-led protests in 2007: Gambira
Gambira is one of the leaders of the All-Burma Monks' Alliance, which led anti-government protests in August 2007.
On 4 November, weeks after the protests were crushed, he accused the junta of bringing a country choking "on the foul air of tyranny" to the brink of collapse in a Washington Post editorial.
"The regime's use of mass arrests, murder, torture and imprisonment has failed to extinguish our desire for the freedom that was stolen from us so many years ago," he wrote.
The 31-year-old was arrested the day the piece was published and less than three weeks later jailed for 68 years including 12 of hard labour.
He was freed on 13 January 2012.
Ethnic groups: Khun Tun Oo
Khun Tun Oo is the most senior political representative of the Shan, the largest of Burma's ethnic minorities. He is also head of the Shan Nationalities League for Democracy (SNLD), which won the second-highest number of votes in the 1990 elections after the NLD.
He was sentenced to 93 years in prison in 2005. A year earlier, the SNLD had boycotted a junta-sponsored national convention on a new constitution. The party complained about the restrictive process and the regime's stance on human rights.
Khun Tun Oo was arrested in February 2005 after a private meeting of senior political representatives to discuss the junta's plans for a political transition. He was convicted on several counts, including treason and defamation.
He was held in Puta-O prison in Kachin State. Conditions were said to be extremely harsh and he was reportedly in poor health and receiving inadequate medical assistance.
He was freed on 13 January 2012.
Journalist: Hla Hla Win
Hla Hla Win worked for the Burmese exile broadcaster, the Democratic Voice of Burma.
Friends said she joined the NLD's youth wing after the 2007 monk-led protests and believed only a dialogue between the NLD and the military government could bring about a genuine solution for Burma. She was later said to have left the party but remained committed to her political beliefs.
The 25-year-old video journalist was detained in September 2009 after conducting interviews with Buddhist monks in a monastery.
Initially she was sentenced to seven years for using an unregistered motorbike. But was later handed down a further 20-year sentence for uploading data to the internet that was "damaging to the security of the military regime".
Media reports say she was not represented by a lawyer. She began a hunger strike soon after and was taken to hospital.
She was released on 13 January 2012, along with four other detained DVB journalists.
Cyclone Nargis: Zarganar
Zarganar, whose name translates as "tweezers", is one of Burma's most famous satirists and actors and a vocal critic of the military government. He has in recent years become a high-profile activist and relief worker in the country. In September 2006, he was banned from performing or taking part in any entertainment-related work.
In 2008, he was arrested along with more than 20 prominent activists and journalists for talking to foreign media about the ruling generals' response to the humanitarian relief effort following Cyclone Nargis.
The storm hit Burma's southern Irrawaddy delta in May 2008, claiming at least 140,000 lives and affecting 2.4 million others. Ignoring protests from foreign governments and aid agencies, the junta refused widespread access to the area for weeks.
Zarganar was sentenced to 59 years in prison for "public order offences". This was later reduced to 35 years.
He was released from prison as part of a general amnesty on 12 October 2011.
National League for Democracy
According to a January 2011 report by the Assistance Association for Political Prisoners (Burma), there were at least 408 members of the National League for Democracy behind bars. The NLD won elections in 1990 but was never allowed to take power.
NLD leader Aung San Suu Kyi spent 15 of the past 21 years in some form of detention before her release in November 2010. Her close aide and fellow NLD founder Win Tin was released in 2008 after serving 19 years in prison for agitating against the junta and distributing political materials.
The NLD's deputy leader, Tin Oo, was jailed for three years in the early 1990s and then again put under house arrest in 2003 after a government-backed mob attacked a convoy he and Aung San Suu Kyi were travelling in. He was freed in February 2010.
It is not clear how many NLD members remain in prison and how many have been freed.