Must Japan be eclipsed by China?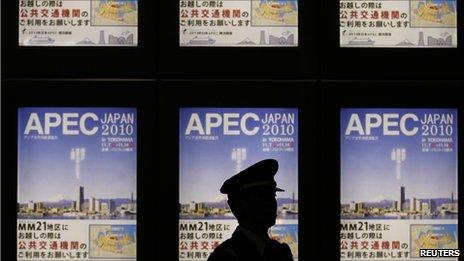 At the 21-nation summit of the Asia Pacific Economic Cooperation forum (Apec) in Japan this weekend, US President Barack Obama will meet Chinese and other regional leaders to discuss how to keep rising economic and security tensions in check. For Japan, the cost of failure could be high, as William Horsley reports.
Japan faces a decisive fork in the road as it prepares to host the Yokohama summit.
One route would result in an abrupt end to Japan's half century as Asia's most successful nation, and signal a long decline in the shadow of China, the rising regional power.
The much brighter path for Japan would lead to a secure regional order based on agreed international rules and a "concert" of Asian nations.
The Asia-Pacific countries, which together account for more than half the world's total economic output, will explore ways of reaching agreement on a Free Trade Area of the Asia-Pacific, as well as closer economic integration across the hugely diverse region.
This agenda aims to build a sense of inter-dependence and shared interests through the common benefits of open trade, investment and what is called "human security".
But as this week's G20 summit in Seoul showed, core issues like adjusting international currency values and dropping protective trade barriers multilaterally, are fraught with difficulties.
Increasingly, economic and security problems have become intertwined and barely distinguishable from each other - especially in Asia where the interests of the US, China, Russia and Japan converge.
Japan has much to lose if a peaceful new order cannot be established in its own neighbourhood. So does it have the ingenuity and strength to help bring it about?
Many experts in East Asian affairs say that the Japanese have only grown more inward-looking as the challenges have multiplied.
Foremost among those are the inexorable rise of China, North Korea's acquisition of nuclear weapons, and Japan's own clumsy handling of relations with its main ally, the United States.
Andrew Oros, an American political scientist and author on Japanese security issues, says the Japanese now appear overwhelmingly pessimistic about the future.
Speaking at a conference last week, Dr Oros said that recent events had shown Japan's political leaders were "more or less paralysed" in the face of hard strategic choices.
The current Democratic Party of Japan (DPJ) government led by Naoto Kan has failed to resolve a long-running dispute over the planned relocation of a large US Marine base to a less crowded part of Okinawa, in the face of strong hostility from the local population to any American military presence.
Mr Kan's predecessor, Yukio Hatoyama, resigned in June amid confusion over the base issue, as well as charges that he was edging Japan's strategic stance away from the US and a bit closer to China.
Japan's perceived diplomatic weakness was exploited by Russia's President Dmitry Medvedev in early November when he made the first ever visit by a Russian leader to the Kuril islands, which the Japanese call their "Northern Territories".
The trip underlined Russia's intention to ignore Japan's claim to recover the islands which the Red Army seized in the closing days of World War II.
At home, a rapid series of government collapses mean that Mr Kan is Japan's fifth prime minister in only four years.
And a recent clash with China over the Japanese-held Senkaku islands in the East China Sea, which China also claims and calls Diaoyu, showed how far Japan is from a relationship of trust with its giant neighbour.
Japan arrested and then released the crew and captain of a Chinese fishing boat which collided in September with two Japanese patrol vessels.
But the Chinese, far from dampening down the row, encouraged mass displays of popular anti-Japanese feeling, banned exports to Japan of rare earth metals vital to Japan's hi-tech industries and started a diplomatic chill which will be tested at this weekend's summit.
For its part, Japan is anxious about Washington's decision to open a US-China "strategic dialogue", and there is so much talk of the United States and China becoming the world's most important decision-makers, a so-called "G2".
Tomohiko Taniguchi, a former Japanese foreign ministry spokesman turned strategic analyst, says China's vast size, super-fast economic growth and expanding naval power mean that Japan faces the prospect of Chinese dominance for the first time in more than 1,000 years.
Nothing would be more humiliating for Japan, he says, than "having to kowtow to the rulers in Beijing".
The Japanese government insists that it has a sound overall strategy. It continues to rely heavily on the 50-year-old US-Japan alliance while itself maintaining a defensive "posture" in line with Japan's postwar "peace constitution".
But Japan is also seeking a wide consensus for more meaningful security ties with other democracies like Australia, India and countries in Southeast Asia - and even with the Atlantic alliance, NATO.
Japanese officials point out that the country is still in the top five among the world's givers of development aid, despite its recent years of lean economic growth at home. It is the number one aid-giver to India.
Japan's advanced technology is also vital to the joint programme with the US to develop ever more sophisticated missile defence systems - something that is crucial for Japan's homeland defence against North Korea's repeated missile tests in the sea close to Japanese territory.
This policy mix involves many levers, but it leaves Japan open to the charge that it seeks to be "all things to all people".
The core reality for Japan is that the 50-year era of its amazing ascent, under American protection, to become an economic superpower is now being challenged by strong global power shifts.
An even greater challenge for Japan may be to cast off the inward-looking mindset of its leaders that has evolved during the years of plenty, and start to show political leadership to match its economic power.