Japan coastguard official admits China video leak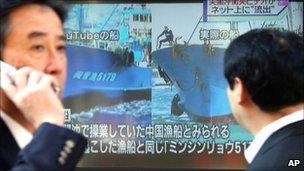 A Japanese coastguard official has admitted leaking a video of a collision between a Japanese patrol boat and Chinese trawler in the East China Sea.
The incident near disputed islands sparked a bitter diplomatic row.
The footage, shot in early September, was leaked to YouTube late last week.
It had previously only been shown to security personnel and some lawmakers for fear it could exacerbate the row. Japanese prosecutors had begun an investigation into the leak.
On Tuesday, the prosecutors seized records from Google to help identify the source of the leak, media reports said.
Google owns the YouTube video-sharing site.
"I have been informed that a coastguard has told his superior officer that he himself leaked the images," Japan Coastguard chief Hisayasu Suzuki told parliament.
He gave no further details, saying that an investigation was ongoing.
The officer in question could face charges relating to secrecy laws.
Japanese Prime Minister Naoto Kan apologised for the leak.
"Regardless of who the perpetrator may be, I extremely regret the fact that certain information, which should not have gone out to the public, has been leaked.
"I would like to offer my sincere apology to the people of Japan," he said.
The collision itself took place on 7 September near islands known as Senkaku in Japan and Diaoyu in China. The islands are controlled by Japan but claimed by China.
A Chinese trawler and its captain were seized after the vessel hit two Japanese coastguard boats near the islands, which have rich fishing grounds.
The incident triggered a political row that has yet to subside, with nationalist sentiment inflamed on both sides.
The Japanese government admitted on Monday that the footage posted on YouTube was authentic.
It shows the fishing vessel colliding with a Japanese coastguard ship, as its crew shout warnings for the ship to stop.
The footage has since been widely shown on Japanese television.
The leak comes as Japan prepares to host the Asia-Pacific Economic Cooperation (Apec) forum summit in Yokohama on Saturday.
It is still not clear whether Chinese President Hu Jintao and Japanese Prime Minister Naoto Kan will hold a formal meeting there.