Chinese artist Ai Weiwei in UK rights plea
By Michael Bristow
BBC News, Beijing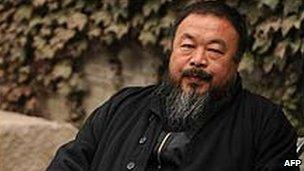 Chinese artist Ai Weiwei has called for British Prime Minister David Cameron to raise the issue of human rights on his visit to China.
He said world leaders should speak out on this issue because their countries profit from doing business here.
Mr Cameron arrives in China on Tuesday at the head of the biggest British delegation to the country in 200 years.
Ai Weiwei - one of the Chinese government's fiercest critics - has just been released from house arrest.
He said the authorities did not want him to attend a party to mark the demolition of his Shanghai studio. But he does not know for sure.
He was given no official documentation about his home detention and the security officials who were watching him left his house without a word.
"They left with no notice or explanation," said the artist, who helped create the "Bird's Nest" stadium for the Beijing Olympics two years ago and the sunflower seed installation at London's Tate Modern.
Speaking to the BBC, Ai Weiwei said that China was not a civilised country because there was no independent judiciary and only limited freedom of expression.
"We have a government that, after 60 years in power, doesn't give its own people the right to choose its leaders," he said.
"This is a society that sacrifices people's rights and happiness to make a profit."
Ai Weiwei believes foreign leaders should speak out about this issue because their companies benefit from doing business with China.
British Prime Minister David Cameron is due to arrive in China for a two-day visit on Tuesday.
He will want to focus on expanding Britain's financial interests in the country.
But Ai Weiwei wants him to ask China's leaders why they do things such as put people in prison simply because they have different opinions.
This year's Nobel Peace Prize winner Liu Xiaobo is currently serving an 11-year-old prison sentence for helping draft a manifesto calling for political change in China.
Mr Cameron, and four other government ministers, will attend a series of meetings while in China covering the economy, climate change, education and other issues.
It is the biggest delegation from Britain to China since Lord Macartney visited in the 1790s.