Move to airlift Malaysians as Merapi volcano rumbles on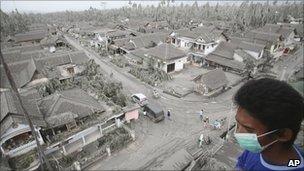 Malaysia has moved to airlift hundreds of its nationals from Indonesia as Mount Merapi volcano continues its massive eruption.
It sent three C-130 transport aircraft to Solo airport to collect 664 stranded Malaysians, many of them students.
Some airlines have stopped flying to Jakarta over fears of ash damage.
On a visit to refugees from the eruption, Indonesian President Susilo Bambang Yudhoyono said there was no sign of the eruption abating.
Speaking at a stadium in Yogyakarta province, he said 283,000 people had now been forced to flee.
More than 130 people have died since Merapi began erupting two weeks ago, its greatest activity in a century.
Victims were being given a mass burial in Yogyakarta on Sunday.
As relatives wept and men recited traditional Islamic prayers, villagers and policemen unloaded the corpses - some in plain wooden coffins, others still in the morgue's yellow body bags - from ambulances, an Associated Press correspondent reports.
They were placed in a massive trench, dug into a large green field in the shadow of the volcano.
The infamously volatile mountain unleashed its most powerful eruption on Friday, sending hot clouds of gas, rocks and debris down its slopes at frightening speeds, smothering entire villages and leaving a trail of charred corpses.
According to the Associated Press news agency, the first Malaysian evacuees were flown out of Solo on Sunday with others due to be collected on Monday.
Solo is about 30km (20 miles) from the volcano.
Jakarta airport official Frans Yosef told AFP news agency that eight international flights to Jakarta were cancelled on Sunday and 42 rescheduled.
Internal flights to Yogyakarta, Solo and Bandung - all cities close to Merapi in the centre of the main island of Java - were also disrupted.
Frustration among air travellers was growing, the agency reports.
"We called three airlines but all the seats were booked," said Singapore resident Raymond Yong, 34, whose Lufthansa flight home from Jakarta was cancelled.
"I don't understand why the airlines have to cancel flights when there are others which are operating just fine. I have to work tomorrow and this is such a major inconvenience."
US President Barack Obama is scheduled to arrive in Jakarta on 9 November for a long-expected visit. White House officials said on Saturday there was no sign so far of any disruption to his schedule.