Second Qantas jet in engine scare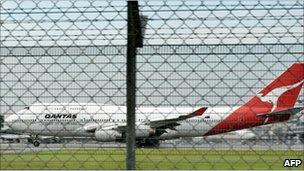 A Qantas airline jumbo jet has made an emergency landing in Singapore because of an engine problem.
The Boeing 747-400 turned back shortly after take-off from Changi Airport, airline officials said.
It comes a day after a Qantas Airbus A380 was forced to make an emergency landing at the same airport after one of its engines exploded.
Qantas grounded its six-strong fleet of A380s and an investigation is under way into what caused the blowout.
The latest incident affected Sydney-bound flight QF6, which was carrying more than 400 passengers.
"Shortly after take-off the captain experienced an issue with one of its engines," a Qantas spokeswoman said.
The plane managed to land safely, she said.
One of the passengers, Australian Ranjan Sivagnanasundaram, told Reuters news agency: "Around 20 minutes into the flight we heard a loud bang and the pilot asked the passengers to put our heads into brace position.
"It was a very big shock to us, especially after what happened yesterday."
Another, Andrew Jenkins, from the UK, described "a loud bang and a jet of fire from the back of the engine", the Associated Press reported.
Earlier, Qantas said the engine failure on its flagship A380 may have been caused by a design fault or "material failure".
CEO Alan Joyce said it was "an engine issue" and not one of maintenance on the two-year-old plane.
Rolls-Royce, the British firm which makes the Trent 900 engine involved, said it was checking all the A380s in service.
The engine blew up over western Indonesia, sending debris falling on to the island of Batam and leaving a trail of smoke.
Passengers were put on a relief flight to Australia early on Friday.
Related Internet Links
The BBC is not responsible for the content of external sites.