China internet users forced to choose in software row
By Chris Hogg
BBC News, Shanghai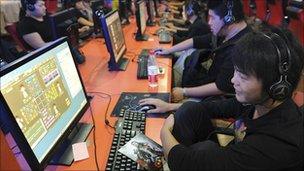 Hundreds of millions of internet users must choose between China's top internet chat programme and its best selling internet security tool.
They have been told they cannot have both, as a dispute between the two internet giants has escalated.
The dispute has led to allegations of theft, involvement with pornography sites and even "doing evil".
China has the world's biggest - and fastest growing - online population with more than 400m users.
In one corner of the ring is a company called Tencent. It runs China's most popular instant messaging service, called QQ.
It says it runs more than one billion QQ accounts.
In the other is Qihoo 360, the maker of an antivirus tool that controls 70% of the market with software it gives away for free.
The row started when Tencent encouraged users to download its own antivirus product.
Qihoo 360 responded by accusing Tencent of stealing users' personal information.
Then it got worse. There were allegations that Qihoo 360 was advertising on porn sites, that its software maliciously interfered with users' QQ accounts.
And other companies joined in to denounce the firm. Qihoo 360 responded by accusing them of "jointly doing evil".
Now the gloves are off. Tencent says it is withdrawing its QQ instant messaging service from 300m users of its rival's antivirus software.
Qihoo has responded by advising its customers to switch to other chat providers like MSN.
It says Tencent's move could be disastrous, leading to an unprecedented outbreak of software viruses in China.
Not surprisingly many internet users are furious, complaining the fight between two commercial rivals is now hurting them.
So now everyone is waiting to see what the users will do. Will they dump their antivirus software or their instant messaging account or both?