Outback Australian town offers $1 homes for rent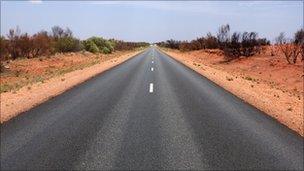 An Australian outback town in New South Wales is offering homes to rent for $1 (£0.60) a week.
Trundle is home to just 380 people and wants to encourage families to settle there to help "keep the town alive".
The area has suffered a long drought but residents say wheat and cereal crops are now flourishing.
The town's campaign aims to capitalise on a "tree-change" movement in which city-dwellers choose a country lifestyle.
It is 350km (215 miles) northwest of the state capital, Sydney.
"Trundle is not dying but we just wanted to avoid that slippery slope where you lose vital services and the town sort of goes in a quick spiral down hill.
"We are just doing what we can to pre-empt any disasters," said Cherie Quade, the Trundle Tree Change campaign spokeswoman.
"We are offering that unique country, small community spirit," she told AFP. "Everybody knows you and says hello to you down the street - it's that welcoming community."
Some of the houses on offer have not been lived in for 10 years and new occupants must be prepared to carry out some renovation work.